I have to admit, probably my favorite part of this job is looking at all of the beautiful pictures of flower arrangements posted on our Facebook wall every day. I am always astounded at the creative and out-of-the-box methods florists use to create incredibly unique holiday arrangements every year. No two are ever alike! The way florists keep it fresh every year stems from their creative abilities. I love these beautiful holiday flowers, and I know you will too…
The three pictures above are all from the talented Tom of Crossroads Florist in Mahwah, NJ. Tom decorates the lobby of the same hotel every week, and it always looks outstanding! These three are the holiday designs he's created this year, and we LOVE how creative and unique they are! Instead of going with the traditional red and green, Tom has chosen small details of the season to highlight. The white and silver for winter; the cranberry and popcorn as hints of Christmas tree garland traditions, and the green tree ornaments mixed with mesh and star-like orchids. Fabulous work, Crossroads!
We can't leave off this beautiful BLUE Christmas tree also shared with us by Tom at Crossroads Florist. Done for a large corporate lobby, this uniquely hued tree is sure to catch everyone's attention! The blue used is so vibrant and vivid; we love it!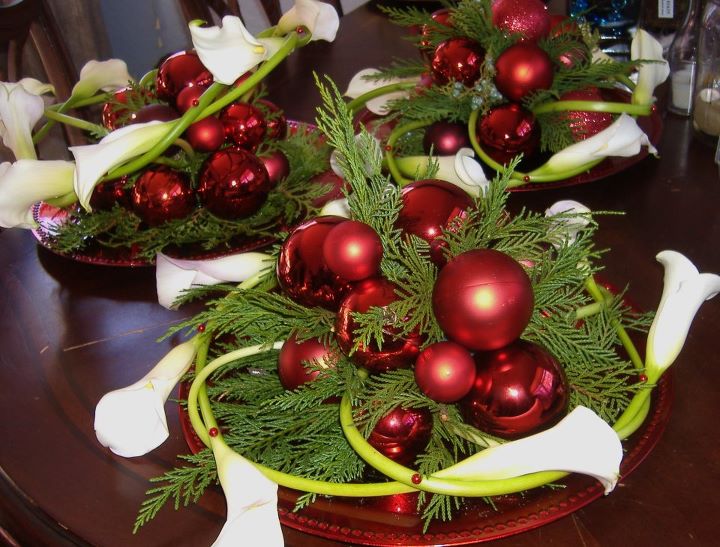 We love these festive, holiday centerpieces created by the talented designers at The Enchanted Florist in Asheville, NC. These designs feature the elegance of sleek, curved Calla lilies, mixed with the traditional Christmas cedar and a various of red ornaments. Janet, owner of The Enchanted Florist says, "Christmas Centerpiece doesn't always have to be the same ole thing." And she's definitely right! These were for a corporate Christmas party in her city.
Flowers By Karen in Monroe WA shows us a rustic Christmas flower arrangement with this red tulip design! You don't often see tulips for Christmas, but here she has done it superbly! The addition of twisting branches, pine sprigs, and holly berries make this look like it was all gathered from the country side. (Especially when photographed in front of the old country window.) Just imagine this displayed at your Christmas party; it'd be the talk of the night!
You've got to love this garden-style Christmas arrangement from Gatsby's Florist & Gifts in Keyport NJ.  This arrangement is filled with unique flowers and textures. The clustered hydrangea, the spiraling rose, the delicate kale, hanging amaranthus, smooth berries, and more — this design is full of eye candy! We love how the florist went the extra mile and added interesting bits inside the glass vase. Such great work!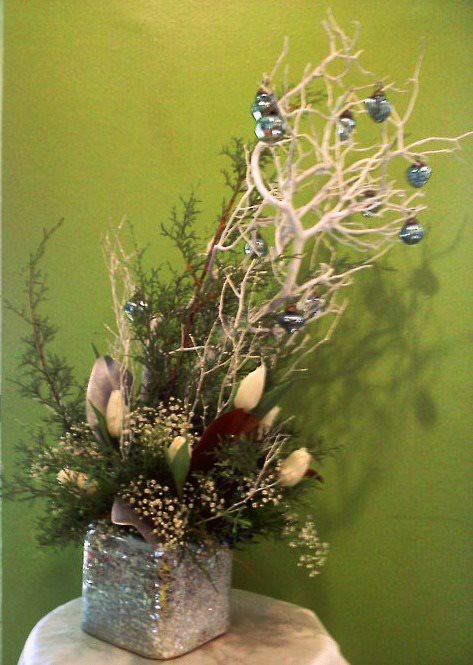 Out-of-the box ideas are always my personal favorites. This design by Mullica Hill Florist in Mullica Hill, NJ has done just that! This florist has used whites, silvers and dark greens to create a one-of-a-kind Christmas design that just screams awesome! They've done a great job mixing glittery and fun with style and sophistication. The shimmery container and hanging ornaments are just enough spice to take this rustic design to the next level! We also love the branches sprayed white!
The wonderful florists over at Platte Flower Shoppe in Platte, SD show us that Christmas designs don't have to be big to make a BIG impact! The first photo shows a small, hanging rustic design. Imagine the smell of cedar as you walked by this hung on a wall, especially if it was a pine-scented candle! (It also looks like the florist has used recycled materials to create the hanger, we love that!) The second photo features beautiful pine covered in snow, just like it would be in nature — pine cones and all!
As many styles as there are for Christmas, nothing beats the traditional. Roxanne's Flowers in Akron PA shows us how beautiful traditional can look, with fresh pine with red carnations and berries and white mums. This is a perfect centerpiece for any Christmas party, event or simply for you on your home's mantel.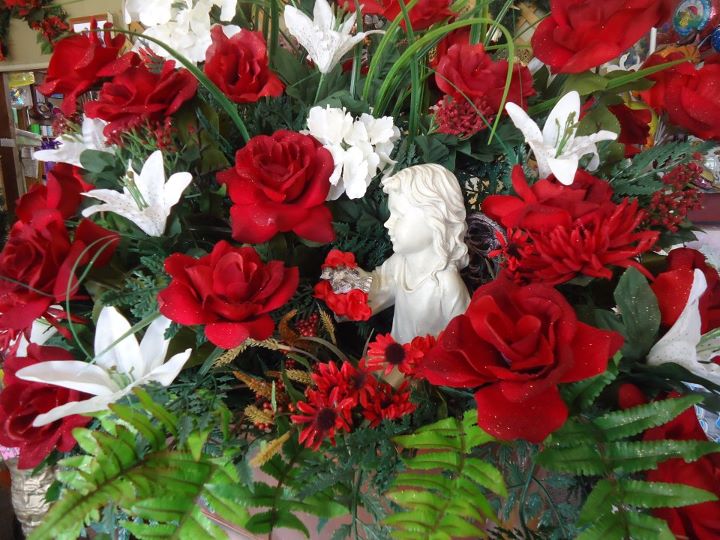 In keeping with traditions, we loved this romantic Christmas Angel arrangement from Terrie's Floral Shop in Crestview FL. Terrie said, "24 Red Roses with lillies and filler for a Christmas Anniversary with Angel to show she is his Angel for life." Such a romantic notion to his beloved at Christmas time. Great way to mix romance and the holidays.
We absolutely love these holiday designs by Swannanoe Flower Shop in Swannanoe NC. The first design is another beautiful example of holiday romance. What could be more romantic this season that receiving snow-covered red roses? The additional pine cone and matching bow makes this arrangement a complete masterpiece! The second photo above was for a Veteran's Cemetery in their community. This design is the perfect mix of patriotism, masculinity and the holidays.The florist chose bright green ornaments to contrast well against the dark pine and foliage mix, and the ribbon is just dark enough to really make the flags stand out in the forefront. The third picture above is a beautiful holiday sympathy wreath. Although it's for a somber occasion, this design is full of energy and life. The bright greens chosen are even brighter compared to the dark pine cones and festive bow. With the additional nesting bird, yellow accents, it's sure to put a smile on anyone's face.
This is one of the first holiday arrangements shared on our Facebook this year. Wildflowers & Gifts in San Antonio TX shows us their take on a playful holiday design. This design features beautiful, white lilies, red and white carnations, mums and delicate red roses, accented with shimmery gold ribbon and wire.
Sun Valley Florist in Ramona CA shows us the interesting details inside of one of their creative holiday arrangements. Encased in white branches, these beautiful orchids are accented with all sorts of extras: floral picks, ornaments, wire, pearls, etc. This arrangement would be perfect for a unique party or someone who loves the eclectic.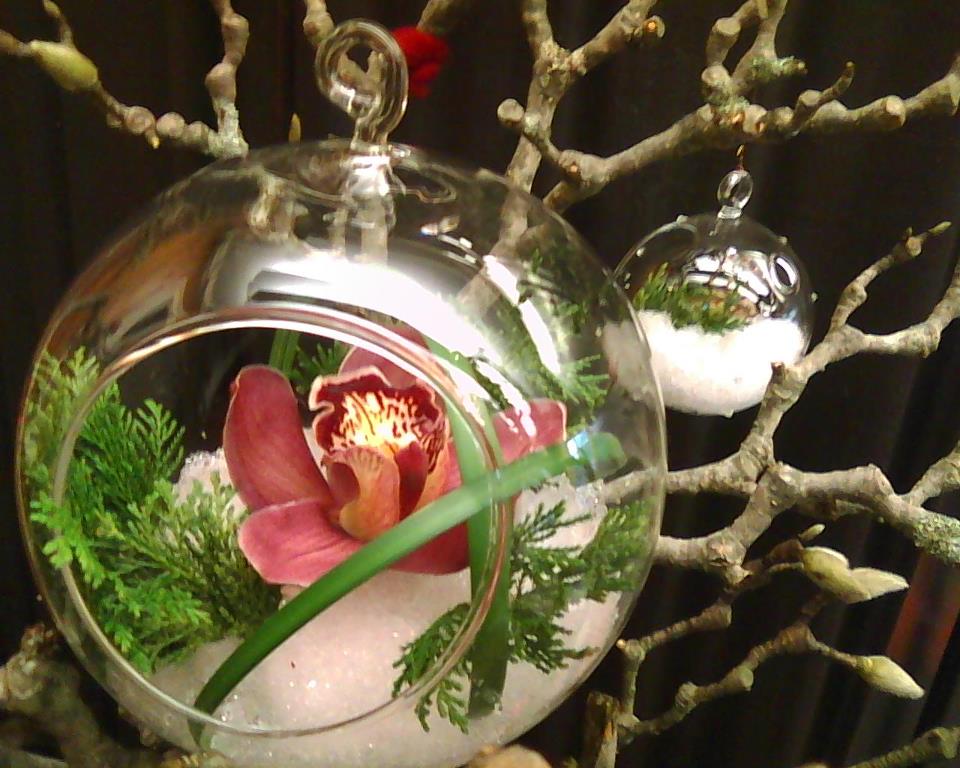 The creative florists at Green Dahlia in Middletown CT have made some of the most interesting ornaments I've seen in a while! They call them Snow Globes and they use "real snow, (it's not, it's totally artificial) but looks awesome and lasts for weeks, or as long as it is kept hydrated. Like little tiny Water Pearls." While you may not do an entire Christmas tree with them, imagine just a few of them hanging from a twisting branch, either natural or painted, just like they've got it in the picture above. Way to think outside of the box!
See holiday designs and much MORE from local florists on our Facebook Page
At Flower Shop Network, we may be our florists' biggest fans. Do you know your local florist? Maybe it's one of the ones mentioned above, but if it's not… find out who it is! Go into their shop and see the incredible holiday decor and more they've got to offer! Don't forget the flowers at this year's Christmas parties! As you can see, these flowers can really take your event to the next level!
If you don't know your local florist, type in your zip below and find out!
If there is more than one, visit them all and see who works best for you! A florist is much more than someone you visit for anniversaries and birthdays!