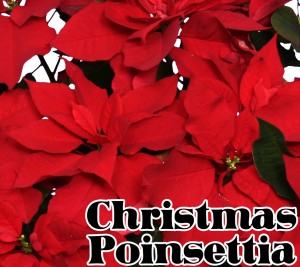 It's THAT time of year again.. Hopefully the holidays didn't sneak up on you too fast. If they did, the fastest way to get yourself into the Christmas spirit is to START DECORATING!
THE BEST Christmas Poinsettias
Poinsettias are hands-down THE Christmas houseplant. Point yourself towards your holiday florist to find the best selection AND the most varieties of Christmas poinsettias. Poinsettias that come from your local florist are often far better quality and come in a LOT more colors than you would normally find at a department store. Your local florist will know the correct poinsettia care and will be able to help you keep it looking healthy and festive throughout the holiday season.
Don't forget Christmas at the office!
Easily add a dash of Christmas spirit to your office by bringing in a radiant Christmas poinsettia. Set it on your desk or in the office lobby. Brighten any mood with peeks away from the computer monitor and at your lush, Christmas plant. Poinsettias are great for the office, especially if you don't have much room to put up traditional Christmas decorations. Who knows, maybe staring at your festive plant will bring on the holiday VACATION a little faster?!
Sending Poinsettias To Grandma
The poinsettia is a fantastic houseplant to send to Grandma, Aunt Lucy, Ex-Uncle Bob or whoever else you have on your extended family's gift list. You can't leave them out, but driving all the way to their house is just too much! That's exactly why poinsettia's are great gifts! Sending holiday flowers through real local florists is so easy! You can use the local florist directory (here at Flower Shop Network) to find a real florist in the area you wish to send a poinsettia. Then send and feel great knowing you've sent the freshest, most beautiful holiday flowers available.
The Poinsettia Is Poisonous Myth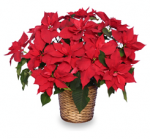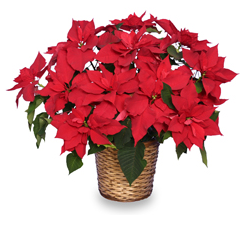 This is a very widespread myth: the poinsettia is poisonous and can harm your children or pets. Believe it or not, the poinsettia is actually quite harmless to both children and pets. No plant has been tested more than the poinsettia for toxicity, but all tests come up negative or very low. POISENDEX, the source of poison information for the majority of poison control centers, says: to get sick a 50-pound child would have to eat more than 1¼ POUNDS of poinsettia leaves… which would be 500 to 600 leaves.
Even so, you should never place a plant on the same level as small kids and pets. Although the plant might not hurt them; they can sure do a number on the plant! The ASPCA's website does list the poinsettia as slightly toxic to dogs and cats, saying it can cause irritation in the stomach and mouth, but does point out it is generally over-rated in toxicity.However, The American Veterinary Medicine Association of America (AVMA), does not include poinsettias on it's list of plants that are a threat to animals.
More About Poinsettias
Top Six Reasons To Decorate With Poinsettias This Winter
Christmas Flowers: Gifts, Tips And Decorations
20th Century Poinsettia Trends
This post is brought to you by Salt Lake City florists.
Not in Salt Lake City? No worries, Flower Shop Network makes it easy to find your local holiday florist online!