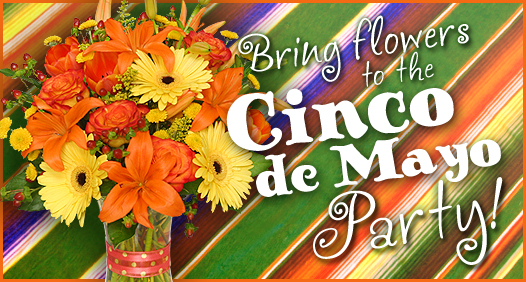 Cinco de Mayo falls on Saturday this year and is a GREAT excuse to have a FIESTA!
Are you tired of the same ol' get-togethers every weekend? Break out the sombreros, this Saturday will be different – a Cinco de Mayo party is easy!
Cinco de Mayo Decor
Cinco de Mayo decor is all about bright, bold COLOR! While Mexico's colors are red, white and green, their culture is know for it's use of vivid colors.
Choose colorful tablecloths, plates, cups and napkins.
Create simple garlands of flags to hang around the room, or an outside canopy.
Don't forget the flowers! Use bright and cheery Cinco de Mayo flowers as the centerpiece to your buffet table, or anywhere else that needs a splash of COLOR!
Flowers make great hostess gifts!
Party Food
Next to decor, food is the most important aspect of a Cinco de Mayo party!
Grill steak, chicken and veggies for delicious tacos and fajitas!
Create fun sombrero shaped cookies or other festive desserts.
For adults, Sangria or Margarita drinks
For everyone, do lime flavored punch.
Fiesta Fun

Play a game even the kids can participate in, such as horseshoes or bean bag toss.
Piñata time! Whether your party is for adults only, or all ages, everyone loves a pinata!
Play Latin music to get everyone dancing their best Salsa.
History of Cinco de Mayo
Cinco de Mayo (Spanish for "fifth of May") is celebrated on, of course, May 5. The date is observed in the United States as a celebration of Mexican heritage and pride, and to commemorate the Mexican army's unlikely victory over French forces at the Battle of Puebla on May 5, 1862, under the leadership of General Ignacio Zaragoza Seguín.
The Battle of Puebla was important for at least two reasons. First, although considerably outnumbered, the Mexicans defeated a much better-equipped French army. The 4,000 Mexican soldiers were greatly outnumbered by the well-equipped French army of 8,000 that had not been defeated for almost 50 years. Second, it was significant because since the Battle of Puebla, no country in the Americas has been invaded by any other European military force.
If you host or attend a Cinco de Mayo party, don't forget the flowers AND always always always use a real local florist when ordering flowers for any occasion!