When it comes to Valentines Day gifts, send your classy girl, classic red roses. Roses are the number one favorite flower for Valentines Day. Not surprising considering they have long been the symbol of romance, love and admiration.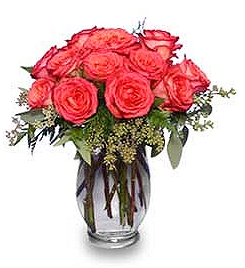 Other popular rose colors include:
Coral – Desire.
Lavender – Enchantment.
Orange – Fascination.
Pale Pink – Modesty.
Pink – Thankfulness.
Red – Love, I love you.
Red and White Mixed – Unity
White – Innocence and purity. I am worthy of you.
Yellow – Decrease of love, jealousy, try to care.
Rosebud – Beauty and youth, a heart innocent of love.
Types of Rose Arrangements For Valentines Day
The rose arrangements have came a long way since the days of simple roses-and-babys-breath. While that is still an option, there are many more unique styles to choose from to really amp up the rose-factor! Just check out these styles: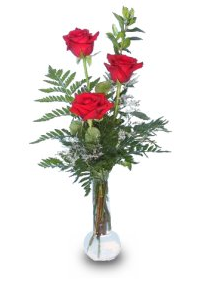 The Bud Vase
You cannot go wrong with the classic red rose bud vase. A simple gesture to your sweetie to remind her she is always on your mind. The three red roses symbolize the love you share.
This design would also be good for young love. Imagine receiving this arrangement as your very first real Valentines Day gift, maybe even your first gift of flowers! So sweet.
Low Profile Roses
Flower arrangements don't always have to be big and over-the-top. A good design goes a long way, like the picture above of Spellbound Roses. It features a dozen stunning red, short-stemmed roses in a beautifully designed arrangement. It's perfect for the classic girl who doesn't like to stand in the spotlight, but still deserves to be recognized for all she does.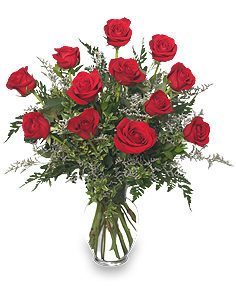 The Classic Dozen
The classic dozen is a staple of Valentines Day gift giving. This romantic gesture has been a tradition for generations. There's something mesmerizing about the deep beauty of a rose. It's truly nature's masterpiece and sending twelve to your lady will have her beaming with pride.
24 Radiant Roses
If you really want to knock her socks off, go for 2 dozen roses! This arrangement is dressed to impress, as they say. The size and beauty of this many roses is incredible and she will be the envy of the office!
No matter what you choose to send your sweetie on Valentines Day.. Always always always use a real local florist when sending flowers. Not only do you get the best deal around, you're supporting your community as well. Don't know your local florist? Use our handy florist finder!