Roses may be the giant of the floral world, but carnations are the backbone. Carnations come in a range of colors. They have a mild fragrance, and are lovely alone or as accent flowers. They are the official flower of Mother's Day, and have been treasured for thousands of years.
With all that going for them, why wouldn't you want to send an arrangement of these gorgeous blossoms to someone you care about? Before you decide on an arrangement, you may want to consider the color of the carnations you are sending. Each color has its own special meaning.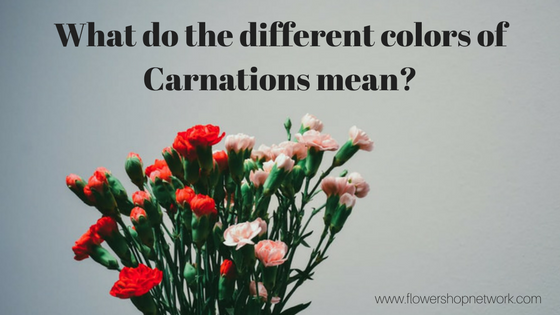 White carnations represent purity. They can be used to tell someone they are sweet and lovely, and can also stand for good luck.
Pink carnations show gratitude. They are a great way to say you'll never forget them, or to let them know you have an unforgettable love.
Do you have great admiration for someone, or does your heart ache for them? Red carnations are used to convey these deep feelings of love and affection.
Purple carnations show capriciousness. Want to apologize for an impulsive mistake? Try sending purple carnations.
If someone sends you yellow carnations, you may want to beware. Yellow carnations represent rejection and disappointment.
Striped carnations express refusal, or regret.
Carnations are a versatile, long-lasting flower. Use them to express your love, or tell your own story. Try combining them with other types of flowers for an even stronger message.