It's that time again — PROM! Fancy dresses, perfect hair, jewelry, makeup, high-heels and beautiful flowers — when these are the essentials, you know it's bound to be a good night! Mothers and daughters everywhere are planning big things for this year's festivities.
For florists, however, prom can be a daunting task. Designing corsage after corsage with little guidance will really drain your creativity. The solution? A corsage bar! They are one of this prom season's coolest trends.
A corsage bar is a buffet-style spread of all sorts of cool corsage accessories. Your prom-goers will be able to pick their "base design" and build their own unique corsage with whatever materials they choose.
Here is an example of the process:
Have a few examples of basic corsage designs and let them pick their own flower types, flower colors, ribbons and maybe a few other basics for a base price.
Have several trays and bowls set up on a table in different colors or styles to make it easy for color coding.
Put all of your smallest trinkets into a red bowl, the bigger, more unique things on a blue tray. Lay feathers and wires on a green mat.
Have a price guide based on your colored bowls and trays, so they can pick and choose what they want within their budget.
Example:
Package A: Base Design + 1 red bowl trinkets + 1 blue tray accessory + 1 green mat = $XX
Package B: Base Design + 3 red + 2 blue + 3 green = $XX
You get the idea.
Price your pieces individually too. Everything in the red bowl is $X each. So I can get Package A with 3 extra red bowl accessories at ($ Package A) + 3 × ($ red bowl price) = AWESOME CUSTOM CORSAGE. [Sorry about the confusing math, if you have questions just ask!]
Ask your floral supplies wholesaler what's new or prowl through your local craft store and get everything you find that goes with this years look!
Don't be afraid to suggest other accessories! Flowers to wear are a big trend this season! Use fresh or silk flowers on hair barrettes, necklaces, even on the straps of their shoes! Creating a flower ring out of wire and beads with flowers is super easy and a great add-on sale that the girls will really love!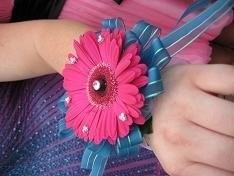 A corsage bar is a great way to spark your creativity, as well as gain valuable interest in your shop. Make it an event by creating flyers to hang in local high schools. Facebook is another great way to publicize this awesome opportunity. Create an event page and invite students from local schools, parents you may know and your other florist friends to let everyone know what is happening in your shop.
Trust me, once students get a taste of creating their own floral designs, and parents experience having a little more control over the prom budget, everyone will be looking forward celebrating this year's event in your flower shop! Start a tradition this year with your very own corsage bar!