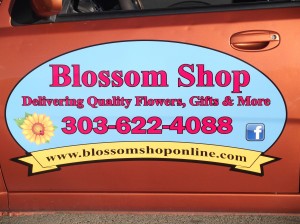 Take a peek inside the creative mind of a florist as they design something truly unique for a special someone. This is a story shared with us by Blossom Shop in Strasburg CO.
I got a wire order over the phone from another flower shop. I was pleasantly surprised to get a very good budget for a sympathy arrangement and no specifics other than they would like a nice fall arrangement if you can do that otherwise…
So I got to thinking, I wanted to do several matching pieces, something really large in a basket. I just knew I wanted it to be creative, but not something they might dislike being too interesting.
Getting Inspiration
So I took a tour of my shop a few times, front and back, to see what sizes and different containers that I might want to use.  Some of my best-liked arrangements come from me finding something I can't seem to get rid of (container wise) and making it beautiful with flowers. So I found these square wreath forms that I've yet to sell; one, because they have structure in the middle for placing a picture or something of the like, and two, they are a big size. I have yet to convince anyone to let me customize the center or pay enough so I could do something "interesting".
So I grabbed one on those bad boys and got the wheels spinning. I used the leaf-looking ribbon to cover the back. To make that interesting I wove 10 lengths of that ribbon and covered all that maché and the center structure. After soaking it I laid it flat to start my designing.
Bringing It All Together
I covered the center structure with fall-colored, preserved leaves. Then I did the four corners, each with a different type of green to add interest, and then filled in with beautiful fall flowers.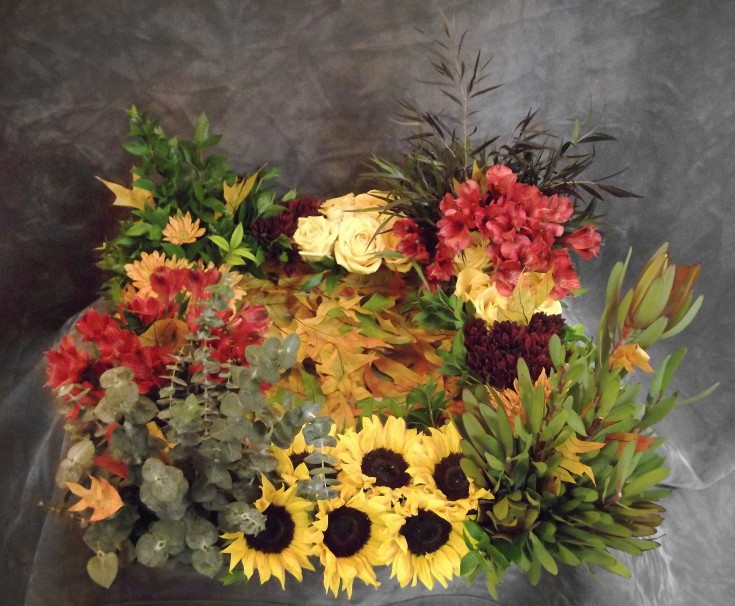 The following is what I posted on our Facebook with the attached photo of the flowers: This is a original Brie's Blossom Shop creation. They wanted a nice fall arrangement so they got about 30lbs of creativity. Square wreath laying flat with a "pond" of fall leaves in the center. Delivered last night and I've already had a phone call and a stop-in, both asking the name of this arrangement and to tell me how beautiful and creative it is.
Have a story about flowers you'd like to share with our blog readers? Click here!