Are you one of the many florists who gets stuck in the hum-drum of day-to-day floral design? Do you need a little push to look outside the box for new, inspirational ideas to get their creative juices flowing! In this article, we look at quick and easy ways to give your vases a little more 'oomph' while rediscovering your muse and encouraging new business. (Who wouldn't want that!?)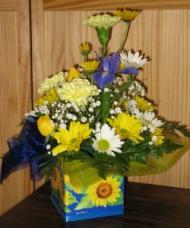 Decorative Box Vase
This really cool idea, submitted on our Facebook by Paula from Buds 'n Bows Flower Shop, uses a decorative box to 'dress up' your boring, everyday vases. She used a decorative package one of her coffee mug gifts came in to really dress up this flower arrangement. She just slipped a regular, plain vase inside and glued a blue ribbon to the bottom.
Great job thinking out of the box inside the box, Paula! Using your imagination, how can you make this work in your shop? Keep an eye out for vase inspiration everywhere! Kleenex boxes are usually very decorative. Slip a tissue box over your vase and use the box's color palette to inspire your floral design.
Buds 'n Bows does a great job of matching flowers to this box!

Natural Vases
Floral designers everywhere are using nature-inspired elements to bring out the best in their arrangements. One great new trend is stuffing little cubes of floral foam into seashells to create unique arrangements inspired by the sea — great for centerpieces at a nautical themed party.
Wood is also an incredibly hot trend right now! Floral designers are gluing bark and cork sheets to vases (and even plain cups) to create a look that is rustic and inspiring. One cool vase design technique I saw at the AIFDSC involved using highly textured cork bark wired to the outside of beautiful glass.
Other natural vase ideas: slipping a smaller vase into a hollowed log, covering your vase in moss or lichen, gluing or weaving twigs along the outside of your container… the possibilities are endless!

Upcycled Thrift Store Vases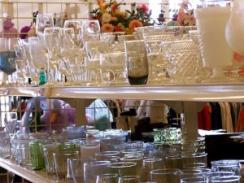 Take a quick field trip to your local thrift store with new vases/containers in mind — you'd be surprised what sorts of inspirational things you will find for next to nothing!
Thrift stores generally have a large selection of unique glass in all sorts of shapes and sizes. Buy a box full of cute, summer teacups for your spring wedding centerpieces. Find an old Victorian lamp with no shade and pull the wires out for a huge, uniquely shaped vase.
Buy a bag or jar of vintage buttons or marbles to use as vase filler. You can find small ceramics or other interesting treasures to use inside your design itself.
A little creative thinking and thrift store items will become your new best friend!

Recycled Vase Project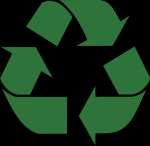 One cool way to promote recycling in your city is by starting a recycled vase project. (This is another great idea we heard about at the AIFDSC.) Offer a $15 coupon of store credit to anyone who brings you an old glass vase from home and it is usable. Give them a $10 coupon if it needs cleaning/fixing in any way, and a $5 coupon for something brought in that is unusable. For the unusable glass, carry it to your local recycling center.
This is a great way to promote recycling in your city and make it easier for those who may not have the opportunity to go to a recycling center. The coupons are also a great incentive to your patrons return business with your flower shop. Send a little note with your orders about the recycling program and start seeing your vases come back for fresh flowers!

What new vase techniques are you trying in your shop?
We would love to hear what new things you are trying in your shop to give your designs a little more character. Leave us a comment below!
This article is brought to you by Crawford, GA Florists