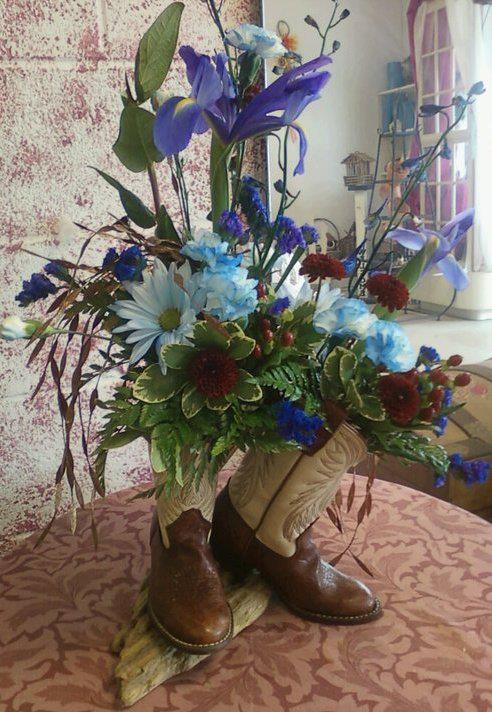 Looking for a creative idea for dad this Father's Day? Walk in his shoes with a personalized flower arrangement! No matter what your dad's interests, there's a flower arrangement for him!
Gifts for the Sporty Dad
Is your dad the type that can't get enough golf? How about a custom flower arrangement inside a pair of his old golf shoes? You can use green and white flowers and pair it with a gift card to his favorite green.
Love football? Use one of the kid's old cleats to create a unique floral design. Include a gift card to his favorite sports bar or even apparel from his favorite team.
Does dad love cycling or going to the gym? Why not build an arrangement in an old pair of sneakers? Or maybe a gym bag. Pair this will a gift card to the gym or a new pair of workout clothes.
Gifts for the Outdoorsy Dad
Cowboy up! If your dad is never seen without a pair of boots, this is the theme for you! (See picture above) Use an old pair of boots and rustic wildflowers. A gift that will make dad feel right at home. Include tickets to an upcoming rodeo or horseback riding.
Is your dad more at home outdoors than in? Use an old pair of hiking boots with lush wildflowers. Include a few new camping items and make arrangements to go camping together!
This type of dad loves the open sea. If your dad is a boating fanatic, send flowers inside a boat shoe! Use nautical accents such as rope or seashells to complete the look. Pair this with a dinner on the boardwalk.
Gifts for the Working Dad
If your dad is never seen without his suit coat, this is his theme! Order high-style flowers in a loafer for a unique gift. Add a iTunes gift card for him to buy new apps for his iPad and have it delivered to his office.
Does your dad always seem to have a hammer and a tool belt on? Send an arrangement in an old work boot or toolbox. Pair this with unique and modern tool gifts.
If your dad works hard all day and likes to come home and relax, create an arrangement inside an comfy slipper. Pair this with a mens spa package.
If you want to order a custom flower arrangement for your dad, simply call your local florist! Explain what you want and they would be more than happy to work with you. Bring them dad's old shoes and any other accessories you might want to add. Who knows, they might have even more creative idea for Father's Day gifts! But remember, always always always use a real local florist when ordering flowers!
Need Father's Day card messages?
Cowboy flowers above by Cottage Flowers & Gifts, Pasadena TX