Sending Seasonal Style
It's December already, can you believe it? Have you finished your holiday shopping yet? There will always be that oh-so-hard-to-buy-for person on your list who seems to have everything. Why not make it simple by sending them the gift of flowers the week of Christmas, especially if they have an office job?
That last week of working before the Christmas break can be excruciating. Trying hard to keep your focus on work and off of everything merry and bright around us is just unfair. Combining the joy of holiday gifts with something as tedious as work is a great idea. Boost their holiday spirit in the 'St. Nick' of time!
What about the other December holidays?
Hanukkah, the holiday of love and light begins at sunset on Saturday, December 8, and ends at nightfall on Monday, December 17. The gift of flowers is an appropriate and festive gift for Hanukkah. Blue flowers can be used and arranged with silver and white accessories to incorporate the colors of the Jewish flag. Learn more about celebrating Hanukkah »
Kwanza, a week-long celebration that honors African heritage, begins December 26, and ends January 1, 2013. This winter holiday focuses on family, community and culture. Flowers are the perfect decor for Kwanzaa celebrations. A florist can incorporate the symbols and colors of Kwanzaa into something not only beautiful, but illustrative of Kwanzaa principles. Learn more about celebrating Kwanzaa »
Just remember, when sending flowers always, always, always use a real local florist, especially during the holidays. Your local florist can take care of your flower order, no matter if you are sending flowers across town or across the nation.
---
Tips For Keeping Christmas Flowers Fresher, Longer!
So, you've got your beautiful holiday centerpiece, maybe a gorgeous Christmas flower arrangement or a lovely red poinsettia, but now what? With a little extra care, you can keep your holiday flowers all the way to New Years! Click the pictures of flowers below for tips on each type of holiday arrangements!
See all Christmas Flower Care Tips

---
Let Flowers Symbolize Your New Year Resolutions




Each flower has a meaning that dates back as far as Victorian times. These meanings symbolize anything from 'love' to 'wealth & prosperity.' This New Year, let flowers symbolize what you want 2013 to mean to you. Symbolic flowers with specific meanings will help you visualize and empower your goals. Order flowers for yourself or to decorate your home for the new year, make it a new tradition. Use the flower meanings tool to find symbols of exactly what you want your new year to be for you and your family.
Looking for examples or suggestions? Click to See How Flowers Can Symbolize Your New Year

---
Facebook Friday: November Favorites



We recently started a Friday recap of all the wonderful posts and pictures from active florists on our Facebook Page. It's been so much fun seeing all the completely different designs every day. We hope you enjoy these favorites and continue through to see more from each Friday this month:
| | | |
| --- | --- | --- |
| Crossroads Florist, Mahwah NJ | Libby's Flowers & Gifts, Elberton GA | Floralescents, Ferndale, WA |
| Buds N' Bows, Crawford GA | Janice's Grower Direct, Edmonton AB | Critser's Flowers & Gifts, Morgantown IN |
See all Facebook Recap pictures in these posts:
---
The Creative Process Of Local Florist – Blossom Shop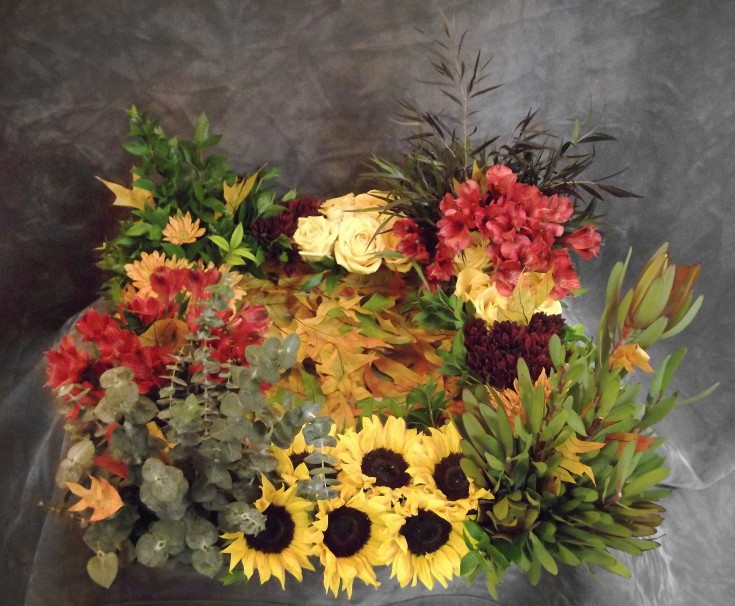 Take a peek inside the creative mind of a florist as they design something truly unique for a special someone. This is a story shared with us by Blossom Shop in Strasburg CO."I got a wire order over the phone from another flower shop. I was pleasantly surprised to get a very good budget for a sympathy arrangement and no specifics other than they would like a nice fall arrangement if you can do that otherwise…
So I got to thinking, I wanted to do several matching pieces, something really large in a basket. I just knew I wanted it to be creative, but not something they might dislike being too interesting.
Getting Inspiration
So I took a tour of my shop a few times, front and back, to see what sizes and different containers that I might want to use.  Some of my best-liked arrangements come from me finding something I can't seem to get rid of (container wise) and making it beautiful with flowers. So I found these square wreath forms that I've yet to sell; one, because they have structure in the middle for placing a picture or something of the like, and two, they are a big size. I have yet to convince anyone to let me customize the center or pay enough so I could do something "interesting".
So I grabbed one on those bad boys and got the wheels spinning. I used the leaf-looking ribbon to cover the back. To make that interesting I wove 10 lengths of that ribbon and covered all that maché and the center structure. After soaking it I laid it flat to start my designing… (Just how did she get from here to the picture above? Keep reading!)
Continue Reading the creative process of a local florist »
---
Recharge After The Holidays! Time To Treat Yourself!



Well, it's over! After months and months of shopping, decorating, planning and preparing, the hardest part of the holidays is finally over. Now it's time to settle down, relax and welcome the new year. Whether you're still amped up on sweets or  fighting to stay awake, you need to make a little time for yourself! You worked HARD this weekend, why not treat yourself with a little reward?
The easiest way to reward yourself this week is by ordering winter flowers for yourself, and here's why:
Flowers are scientifically proven to improve moods.
You can't help but smile when looking at big, beautiful blooms.
The heavenly smell is an instant pick-me-up!
When you order flowers for yourself, YOU get to pick out the style and colors.
YOU can choose your favorite flowers to really put you on Cloud 9.
Flowers are a treat with no calories. (Something we all could use this time of year!)
But what is the best part of treating yourself with flowers? They come to you!
Think money is too tight to treat yourself now?
Understandable, you just bought a zillion gifts for family and friends. Treating yourself is still important to put yourself in the right mood for the upcoming year. Give your florist a call to see what can be made with your budget. Or stop by your local flower shop during a lunch break this week for a pre-made arrangement or pick out your own bunch of flowers. No matter what your budget, your florist will have something for everyone!
---
FLOWER CARE TIP
To ensure your holiday flowers last as long as possible, always buy from your real local florist. Florists use methods and materials to keep flowers fresher, longer. While other stores may carry flowers, they do not give them the attention and care required to enhance the life span of the flowers.
More Flower Care Tips
WE'RE SOCIAL!








Love flowers? Follow us on the above Social Networks! We are always sharing the latest articles from our Bloomin' Blog, as well as the most fascinating news on the net!
You Might Also Like



All-Flower Floats In This Parade Will Blow Your Mind!
Bloemencorso Zundert is the largest flower parade in the world entirely made by volunteers. Only dahlias are used to decorate the objects, and it takes thousands of them just to cover one float. (A must see!)
Holiday Celebrations Ideas From The Past: The Winter Solstice
When we think December holidays, our minds instantly think Christmas. Did you know the oldest and most widely celebrated holiday by different cultures is actually the winter solstice. The winter solstice is celebrated on almost every continent and by almost every culture throughout history. This year the winter solstice is December 21st, 2012.
10 Easy New Years & Winter Marketing Ideas For Florists
The holiday season is a very busy time for florists. However, there are a few quick and easy things you can do that will make a big impact on your last sales of the year. Keep these tips in mind as 2013 draws near.
The Holiday HotSpot: Your Local Flower Shop
If you haven't taken the time to stop by your florist this season, what are you waiting for?? In addition to great holiday flowers and centerpieces, your local flower shop will also have unique holiday decor, the best poinsettias, gifts and most importantly, TONS of holiday inspiration!
Help make Flower Shop Network's monthly newsletter even better! Got questions? Have an idea for a story? With your help, we can make the FSN newsletter just what you want and need. You can drop us a note in the comment section on the blog or email us at social@flowershopnetwork.com. We can't wait to hear from you!