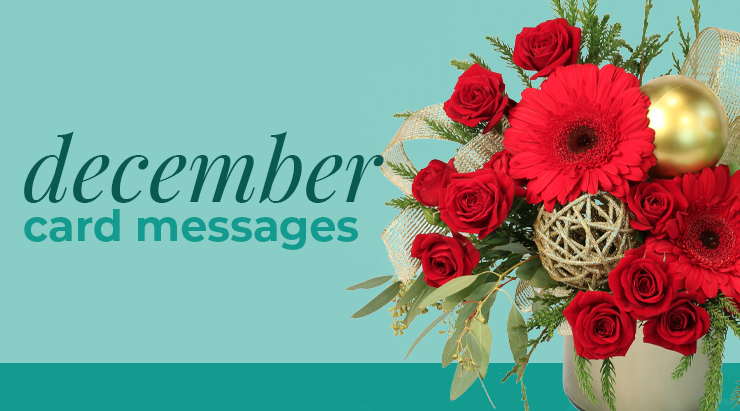 With so many reasons to send flowers this December, finding the right message is essential! We have a few suggestions to help you get started.
Dec 3- Giving Tuesday
Everything you do for our community doesn't go unnoticed. You're such a huge asset and we appreciate all of the ways you help us be better. Thank you!
You'll never know how huge of an impact you've had in my life, but these flowers are a start! Thank you for everything you do for me.
Dec 12- National Poinsettia Day
It's time to get decorated for Christmas! Happy National Poinsettia Day.
I can't wait for Christmas! I hope these poinsettias help get you in the holiday spirit.
Dec 22- Hanukkah Begins
Sending peace, light, and love to your family this Hanukkah.
The best part of this season is spending time with the people you love. Wishing you a Happy Hanukkah!
Dec 26- National Thank You Note Day
Thank you so much for the amazing [insert gift] that you got me for Christmas! I can't wait to start using it!
To the greatest gift-giver ever. Thank you!
Dec 26- Kwanzaa
Wishing you a joyous Kwanzaa! May your holiday be filled with love and happiness.
I'm so glad I get to share the meaning of this holiday with you. Happy Kwanzaa!
Whatever you choose to say this December, your local florist will be able to create a beautiful arrangement for you to send. December is a busy time for florists, so don't wait—order now!