As it is in keeping with seasonal tradition, this month's flower spotlight should be no surprise to anyone. After all, what flower is most associated with the holiday season? None other than the Poinsettia, of course!
Origins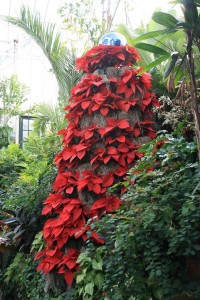 This is yet another plant that comes to us from south of the border, and like the dahlia, it was once important to the Aztecs. Although the dahlia was a food source, (really!) the poinsettia was used to create red dye, and it absolutely should not be ingested.
Safety Concerns
It is commonly believed that the poinsettia is highly toxic, but those reports are overblown. Unless you sat down and ate a large number of plants, the worst you would suffer is possible vomiting and diarrhea.
Flower Symbolism & Mythology
As should be expected with a flower synonymous with Christmas, most of the poinsettia's symbolism is very religious in nature. The red flower is supposed to symbolize Jesus' blood, while the white blooms represent purity. The star shape of the blooms are supposed to represent the Star of Bethlehem which led the wise men to the baby Jesus.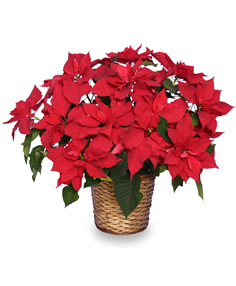 The Aztecs also believed the flower represented purity, (Red meant purity to them.) but its connection to Christmas can be traced back to a Mexican legend originating in the 16th century.
The legend says that a young girl was too poor to purchase a gift suitable to leave for Jesus on the church altar. An angel told her to pick weeds from the side of the road, which she did. As she placed the weeds on the altar, red and green flowers burst forth. As of the early 17th century, Mexican monks began using the poinsettia in all Christmas celebrations.
Availability
You can find the poinsettia just about anywhere at this time of year, but if you want it professionally worked into a gorgeous arrangement, you'll have to visit your local florist. They always do the best work and can make even the most abundant flower look uniquely beautiful.
Now when you buy your poinsettia this Christmas, you can share a bit of trivia with your family!