December is Here!
FSN is excited to bring you our latest newsletter, "Holiday Happiness," and hope you enjoy. We also want to wish everyone a merry Christmas, happy holidays & a fabulous New Year!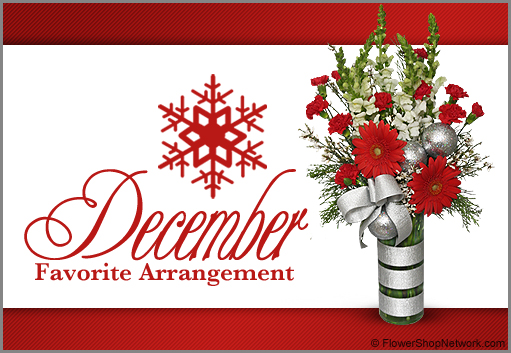 Favorite Flower Arrangement For December
This December, our favorite flower arrangement is Winter Wishes. A non-traditional design is perfect for those wanting a little fun in their holiday decor. It features everyone's favorite flowers, red Gerbera daisies, along with shimmery silver ornaments that ring in the Christmas Spirit! With it's bright red carnations and playful white snapdragons, this flower arrangement is perfect for all ages. Move over poinsettia, this fun holiday design is coming through!
---

10 Easy Christmas Tree Decorating Tips
Christmas seems to come earlier and earlier ever year. If you haven't already got your tree up, here are a few easy tips to make your Christmas tree look extraordinary.
10 – 'Fluff' all of the limbs on your tree. If your tree is fake, take the time to ungroup all of the branches on every limb, try to fill in every hole. Yes it takes time, but it will make your fake tree look fuller, and more real-to-life.
9 – Extra 'fluff' the bottom limbs. Don't let your tree just cut off at the bottom, pull branches down with limbs pointing slightly upward to make it look rounded and natural.
8 – Inside out. Add shiny, 'filler' ornaments to the inside first to make it look more full.
Continue Reading 10 Easy Christmas Tree Decorating Tips
---
Glitz & Glam: This Ain't Your Momma's Christmas Decor




Are you tired of the traditional red and green we see every year at this time? You're not alone. Many people are opting for a more quirky Christmas look. This year, opt for the Glitz & Glam Christmas! For this outrageous look, channel your inner child and go wild and crazy when selecting your Christmas decorations and ornaments. Glitter, glitter, glitter!
Everything on your Glitz & Glam Christmas tree should be sparkly and youthful. This is a great look for anyone who wants something more fun and contemporary this Christmas.
Read more about Glitz & Glam Christmas Ideas (+pics!)

---
Shop Local This Holiday Season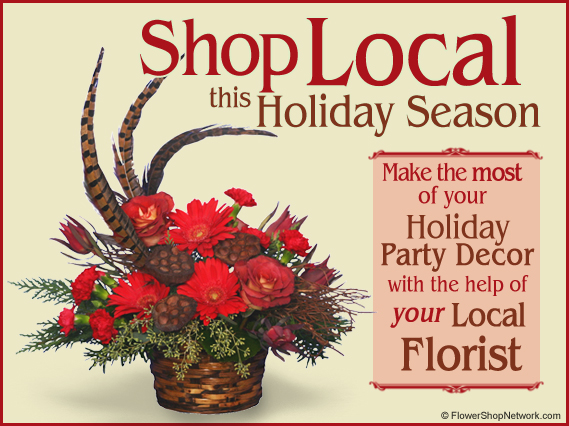 There's been a real buzz this year about shopping LOCAL, and we couldn't be happier! (In case you're new to the blog: Flower Shop Network is a network of ALL local florists.) We just want to remind you of all the wonderful things florists have to offer during the holidays.
Read more about What Florists Have To Offer During The Holidays

---
Remember To Be Generous This Holiday
Life seems to speed up during the holidays. Our extra time is devoted to decorating, shopping, gift wrapping, and we seldom think of much else. Well, we want to remind everyone to be generous during the holidays. There are so many out there who won't be getting anything this year.
A Story of Holiday Generosity
One of my favorite memories of the season is actually from my high school years. There was a teacher who got a little, wrapped gift for every single student in the whole high school, from 7th to 12th grade. This teacher didn't drive a fancy car, or wear fancy clothes, or live in a big fancy house. She was admittedly poor herself, but her heart wouldn't.. no, couldn't let a single kid go without receiving something for the holidays. The gifts she gave were nothing fancy either. You might get a pair of used wool socks (I did one year) or some little hand-me-down something from one of her kids, but we knew she gave all she could. She didn't see the gift as the important part, but the act of giving and generosity was something she wanted those who knew her to focus on. Such a great message for the holidays; I will never forget you, Mrs. Lopez.
Continue reading about Ways To Be Generous During The Holidays
---
FSN's Top 10 Best of Christmas

We've written tons of Christmas articles over the years, here at Flower Shop Network. This season, we are bringing you are top 10 favorites! Need a little help getting into the holiday spirit this year? From card messages, debunked poinsettia myths and more — This article has it all!
View More Top 10 Best of Christmas

---
POINSETTIA CARE TIP
To prolong your poinsettia's color, keep a temperature range of 60° for night and 72° for day. High humidity is preferable.
More Flower Care Tips
WE'RE SOCIAL!








Love flowers? Follow us on the above Social Networks! We are always sharing the latest articles from our Bloomin' Blog, as well as the most fascinating news on the net!
You Might Also Like



Photo Pocket Square Trend: Keep Her Next To Your Heart
You might have caught our post on trendy Pocket Squares a while back. Well, Libby's Flowers, Gifts & More in Elberton, GA has taken it to a whole new level. We love this idea and had to share with you all!
6 Quick Flower Photography Tips For Florists
It seems like the two just go together. We buy flowers based on photos in a book or online, we photograph them at weddings, and florists brag about their talent with pictures of prior work. Most florists would like to have a portfolio, but don't feel confident enough to do it themselves. It's not hard to make professional-looking flower photos, but it does take practice.
Holiday Celebrations Ideas From The Past: The Winter Solstice
When we think December holidays, our minds instantly think Christmas. Did you know the oldest and most widely celebrated holiday by different cultures is actually the winter solstice. The winter solstice is celebrated on almost every continent and by almost every culture throughout history.
Are Coffee Grounds Safe For Plants?
Ask The Plant Expert: I've just read about coffee grounds being beneficial for spiderplants. Would this work for all plants? — Continue to find out the answer.
Anything But Ordinary – Inspiring & Unique Flowers
As a gardener and as an artist and photographer, I have long been attracted to more unusual plants — those that are showy, quirky, alien-like, and over-the-top — anything but ordinary. Any plant or flower that makes me ask, "what in the world is that?" has a place in my garden! Many of these flowers can also be used in bouquets, adding a touch of the exotic and unusual to any arrangement.
Setting Up A Google+ Business Page For Your Flower Shop
So, we all heard the buzz surrounding Google+ Plus when it came out a couple of months ago, however they weren't allowing businesses to set up profiles back then. Well, as of this week, Google+ Business Pages can now be created. FSN is here to help you set up your own Google+ Business Page.
Help make Flower Shop Network's monthly newsletter even better! Got questions? Have an idea for a story? With your help, we can make the FSN newsletter just what you want and need. You can drop us a note in the comment section on the blog or email us at social@flowershopnetwork.com. We can't wait to hear from you!