November was a month dedicated to giving thanks, but the focus in December is purely on giving. It is a month for being generous, helping those in need and seeing the joy on loved ones' faces as they receive gifts. Each of the holidays in December extol family, community and love. That's why this is the favorite time of year for so many.
As you decorate for your holiday bash, or even if you're attending someone else's, don't forget the flowers. From centerpieces to wreaths, flowers are a time-honored tradition!
We hope that you and yours experience the warmth of each other's love this holiday season.
Happy Holidays!
---

Decorate, Don't Procrastinate!
Now that Thanksgiving is in our rearview mirror, it's time to look ahead to Christmas!
Don't Wait When Preparing for Christmas
No holiday is more important when it comes to early planning than Christmas Day. It has been estimated that over 95% of the US population celebrates Christmas. That means for every outside vendor you need to use in planning your Christmas party, you are competing with everyone in town for their business! It's important to get started early and make sure you get your name on the list. There is no time or space for lollygagging. When it comes to your Christmas celebration, you want it done right!
Continue reading Decorate, Don't Procrastinate!
---
Best reasons to Send Flowers in December!
There are so many reasons that flowers make a perfect gift. Through color, texture, shape and fragrance, your local florist can help you discover a genuine way to reach out to those important people in your life. So without delay, here are the best reasons to send flowers this December.
1. December Birthdays – This reason tops our list because those friends and family who have birthdays during the month of the December always have to compete with so many other festivities. A birthday should be the unique celebration of just one person. Make the day truly about your loved one by sending beautiful birthday blooms on their special day.
2.Winter Solstice – December 21st – In the Northern Hemisphere, this day is often referred to as the "longest night." Each year, as the world spins, there comes a point where the lengthening of winter days reaches its apex and this has long been celebrated as the Winter Solstice. While sometimes the winter blues can get us down, you can brighten someone's day with a cheery wintery mix of beautiful flowers. Smiles are sure to lighten up any dark day.
3. Christmas – December 25th – Flowers are a fantastic way to decorate for Christmas and make a wonderful gift for the entire household. Whether sending deep red roses with bright green stems, a fragrant holiday wreath or a breath-taking centerpiece that ties the dinner table together, you can show your warmest love from afar and be a presence in the home of those you hold near and dear.
Continue Reading Best Reasons to Send Flowers in December!
---
Facebook Friday: November Favorites
We provide a Friday recap of all the wonderful posts and pictures from active florists on our Facebook Page. It's been so much fun seeing all the completely different designs every day. We hope you enjoy these favorites and continue through to see more from each Friday this month:
 

Hobby Hill Florist, Sebring, FL

A New Beginning, Moore, OK

Oran's Flower Shop, Kingston, TN

Crossroads Florist, Mahwah, NJ

Inspirations, Lock Haven, PA

Monday Morning, Princeton, NJ
See all Facebook Recap pictures in these posts:
---
FSN Member Wins SAF's Surprise Flowers VaseOff! Challenge!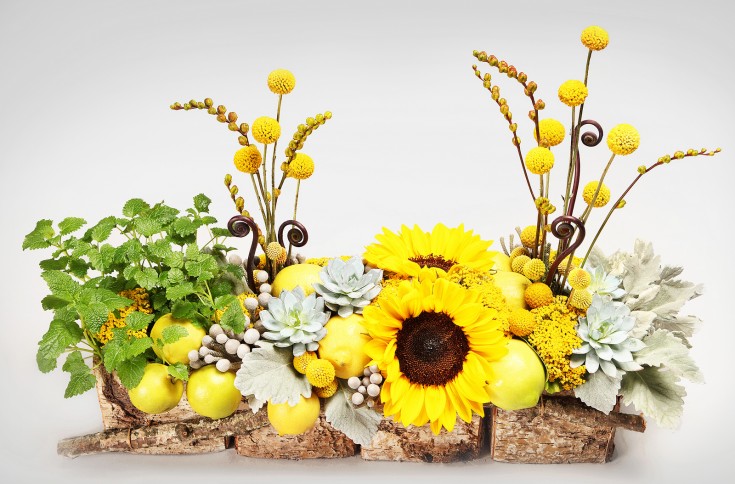 Congratulations to Walter Fedyshyn of Phillip's Flowers and Gifts in Chicago, IL for winning the SAF's Surprise Flowers VaseOff! Challenge!
The VaseOff! Challenge
The VaseOff! Challenge is a competition put together to increase consumer awareness of the expertise of local florists and which showcases their ability to design specifically for an individual. Walter Fedyshyn was paired with a Chicago-based blogger named Melissa Williams who writes about DIY projects, design, home decor, travel and much more! He read her blog and perused her social media pages to learn as much as he could about her, and then created a design with those bits of knowledge in mind!
The resulting design beat out the other three competitors for first place! Good job, Walter!
Read more about FSN Member Wins SAF's Surprise Flowers VaseOff! Challenge!
---

3 Hot Holiday Florals!
The holidays are here and there's no better way to celebrate than decorating your home with floral goodness. It doesn't matter which holiday you're celebrating, your local florist has everything needed to make something unique and beautiful. Here are three hot holiday florals to make your season bright!
Floral Centerpieces
One of the hot floral items any holiday season is floral centerpieces! These make the perfect decorations for placing on dinner tables, end tables or fireplace mantles. They make a great gift for the host or hostess of a holiday party, or they can be used to decorate those bare surfaces in your own home. If you are looking to spruce up your holiday decorations, floral centerpieces are the way to go!
Wreaths
What one item says, "Happy Holidays" more than a natural wreath? And when you buy from your local florist, you know the end result will be both creative and gorgeous. These round, holiday symbols can be hung on your door, on your wall or even along your front porch. And talk about gifts! Wreaths, like centerpieces, make excellent gifts for the host or hostess of any holiday party.
Floral Swags
In case you aren't sure, this is a string of flowers and greenery that can be draped along the mantles of fireplaces, strung along the wall and even hung around your mailbox! These are the perfect complement to any holiday decor and can be designed by your florist to match the color scheme of your home. No holiday decorating job is complete without a few floral swags.
Read more about 3 Hot Holiday Florals!
---
FLOWER CARE TIP
 Immediately remove dead or wilting leaves and stems from fresh flower arrangements.      
More Flower Care Tips
WE'RE SOCIAL!
Love flowers? Follow us on the above Social Networks! We are always sharing the latest articles from our Bloomin' Blog, as well as the most fascinating news on the net!
You Might Also Like
The FSN Turkey Shoot: Having Fun and Meeting Goals The sales team here at Flower Shop Network, just like the sales people employed by your business, has sales goals. And also like you, we try to find new and interesting ways to motivate our sales team to not only meet but exceed those goals. Our last contest was so successful, we thought we'd share this fun, seasonal idea with all of you. It's the FSN turkey shoot!
Enjoying a Thanksgiving Potluck with FSN! Flower Shop Network is going to be closed on Thanksgiving Day, so the FSN family chose to get together this Thursday for food and fellowship. We decided to go potluck style this year, and let me tell you, some of these folks can cook! Most of the food in these shots is homemade and it was all delicious. Enjoy the images, but let me tell you, the reality was fantastic!
Turn Holiday Frazzle Into Holi-dazzle! In the last few years Christmas style has changed dramatically. We've moved away from the traditional green and red to something completely unique. You now see Christmas trees in every color, holiday decorations in all sorts of styles, and so much more non-traditional decor than ever before.
Happy Kwanzaa! Make your Kwanzaa celebration beautiful and memorable this year with a special flower arrangement in the traditional Kwanzaa colors of red, green and black. Kwanzaa celebrations last 7 days; observed from December 26 to January 1 each year.
Help make Flower Shop Network's monthly newsletter even better! Got questions? Have an idea for a story? With your help, we can make the FSN newsletter just what you want and need. You can drop us a note in the comment section on the blog or email us at social@flowershopnetwork.com. We can't wait to hear from you!