You have the stuffing, the pumpkin pie and the turkey. What's missing? Seasonal decorations to enhance your holiday table. This year, use the only simple Thanksgiving table decoration that achieves the ultimate in holiday decor: flowers!
Do It Yourself Flowers (With A Little Help)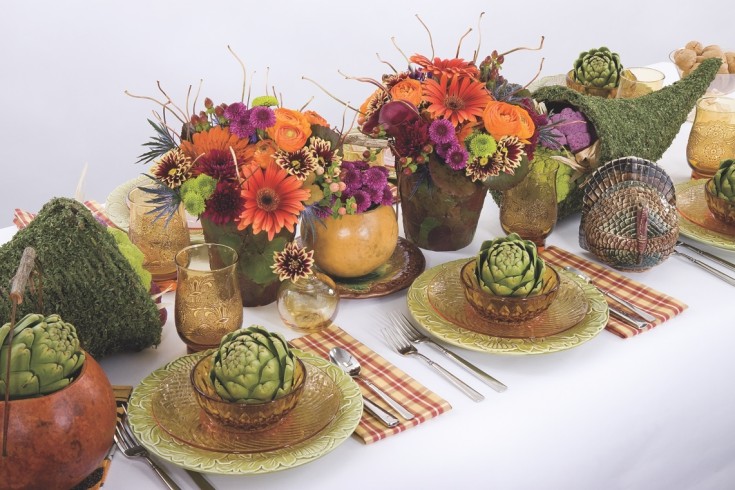 When creating your own table decor, you can find decorations and flowers at your local florist. But flowers aren't the only items you can purchase from your florist. You can also find fun and colorful accessories, like gourds, berries and other seasonal options like cornucopia baskets or pumpkin-shaped vases. Whatever matches the rest of your decor, your florist can help you find what you need. When it comes to DIY and table decorations, they will be happy to help you as much or as little as you want.
Tip: Make sure to meet with your florist ahead of time so they can offer suggestions and advice on your decorating ideas.
Holiday Decoration Ideas
Draw inspiration from your own backyard. Gather fallen leaves, pinecones and greenery to add to the fall-colored daisies, lilies and bright sunflowers provided by your local florist. Thistles and berries are good autumn elements that intensify the "pulled from the garden" look. For a rustic down-home effect, try putting all of your flowers in a decorative clay pot.
A bundle of barley or wheat wrapped in shiny copper wire can also look very autumnal sitting on plates or arranged with your tablescape flower offerings. Make sure to shake the loose bits out before using the grains on the table, or you'll end up with a bit of a mess. Don't forget the chrysanthemum!
Used by itself as a potted plant or as cut flowers in a centerpiece arrangement, this flower is the epitome of fall and Thanksgiving.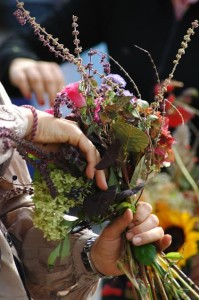 You Don't Have To Do It Alone
Creating your own Thanksgiving table decor doesn't mean you can't rely on the experts for help. Your local florist can provide the quality flowers and expert advice you need to wow your guests this Thanksgiving holiday.
With a little help and before you know it, there'll be a fall flower extravaganza to go with the bounty already on your table.