We've had a lot to say about Easter in the long history of the Bloomin' Blog. Check out our favorite Easter articles to put you in an egg-cellent mood for this weekend. Easter is April 8th!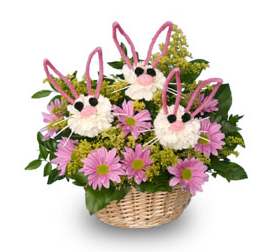 When it comes to sending Easter flowers, just what do you send? This article gives great ideas for the kids, family and even the extended family. Wish everyone a Happy Easter with beautiful pastel blooms.
Lilies are truly a favorite symbol of Easter, but how much do you really know about this beautiful flower? Check out this post for lots of lily facts, trivia
Let's face it, little kids LOVE Easter and for good reasons: dying eggs and getting messy; hunting them outside in the sunshine; getting more candy than you know what to do with; AND there's an Easter Bunny?? Sure, there's more to Easter than that, but to a small kid, it's all about the bunny!
Easter flowers mark the awakening of spring and the celebration of it's most highly regarded holiday. Easter lilies are a standard gift during the Easter holiday and for good reason. Easter lilies symbolize purity and grace, which succinctly fit the meaning of Easter.
Everyone has heard of the traditional Easter basket. It's popular enough to be sent every Easter. What many haven't seen yet is that unique baskets can make a huge difference for other holidays. Creative baskets, just like unique vases, are excellent for making the gift of flowers stand out.
Easter is so much fun! Half of the fun of celebrating this candy-coated holiday is seeing which Easter gifts you'll get. Pass the fun around this year by sending Easter flowers and candy to someone that you love.
Want to find the perfect message for your Easter card? Check out this post for lots of card message ideas for any person on your list.