What are the key icons of the Easter we can use in our designs? pastels colors, spring flowers, crosses, Easter lilies, dyed eggs, chicks, rabbits.

Decorate your store window with everything spring and Easter. Make sure everyone thinks YOUR STORE when they think EASTER! Use large, creative displays to set yourself apart from the Easter aisle at your grocery store!
Create a few Easter flower arrangements and advertise them on your Facebook page as special/limited editions.
Suggest to local businesses and restaurants to buy your limited edition arrangements for easy decorations for their shops.
Contact local restaurants about using simple spring flowers on their tables as centerpieces. Offer this for free if they will let you attach a small ribbon or card to the flowers with the name of your shop and your website URL.
Check the dollar stores, party stores or FGmarket for assorted, inexpensive Easter party favors and accessories to include in your most fun arrangements.
Ideas for limited edition Easter flower arrangements:
Easter Reflections Cross – Create a small cross using willow or other branches. Gather branches of the same length together and tie them at both ends. Lace other, shorter branches through to create the 't' section of the cross. Fasten these on both ends too, and use wire to keep the smaller section from tilting. This creates a wonderful armature to use for flowers. Use beautiful white flowers and Easter lilies to accent the cross.
Egg-citing Easter Wreath – Hot glue Easter eggs to a vine wreath. Plastic eggs look cheesy, but if you must use them dress them up! Cover them in torn fabric or paper then paint them to give a hand-made, vintage look. Use willow or other vine to wrap around the eggs and wreath to give the impression they are holding the eggs in place. Create a floral display at the bottom or bottom right of the wreath. Use spring flowers!
Cozy Cottontail Nest – Wrap a container in brown paper then use willow and vines to make it look like a birds nest. Add grasses and other foliages to make it look cozy for two, colorful Easter eggs. place those in your 'nest' and add spring flowers around it.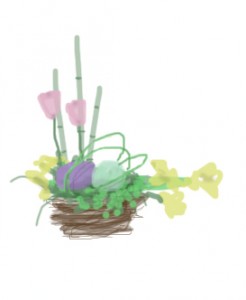 This post is brought to you by local Bellingham, WA florists.
Not in Washington? No worries, use Flower Shop Network to find a real local florist near you!