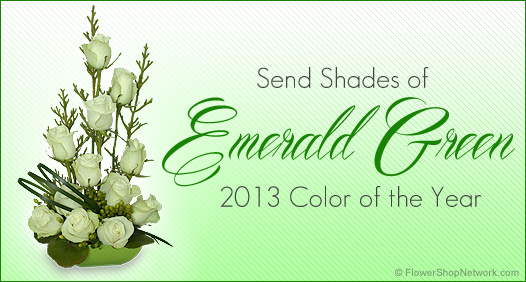 Pantone, the global authority on color, has named PANTONE 17-5641, or Emerald Green the color of the year for 2013!
Why Emerald Green for 2013?
 "Most often associated with brilliant, precious gemstones, the perception of Emerald is sophisticated and luxurious. Since antiquity, this luminous, magnificent hue has been the color of beauty and new life in many cultures and religions. Also the color of growth, renewal and prosperity, no other color conveys regeneration more than green. For centuries, many countries have chosen green to represent healing and unity."

"The most abundant hue in nature, the human eye sees more green than any other color in the spectrum," said Leatrice Eiseman, executive director of the Pantone Color Institute®. "As it has throughout history, multifaceted Emerald continues to sparkle and fascinate. Symbolically, Emerald brings a sense of clarity, renewal and rejuvenation, which is so important in today's complex world. This powerful and universally-appealing tone translates easily to both fashion and home interiors."
Emerald green is one of the most beautiful and abundant colors in the floral industry. With almost limitless foliages and the abundant source of green flowers continues to grow with new hybrids every day. All-green floral designs are so unique and interesting. This color works well for both women and men's designs.
Planning A Wedding?
Emerald green is sure to be a huge trend for weddings in 2013. Use green by itself for a unique, monochromatic look, or combine with complimentary colors such as, purple, magenta, chocolate, grey, and almost anything else.
Check out FSN's guide to emerald flowers for your wedding for a look at unique flower options for wedding bouquets and arrangements.