Ask the Expert:
I am attending a local play that a girlfriend is acting in. Thinking I should bring flowers but not sure what is appropriate. Please let me know Thanks! Susan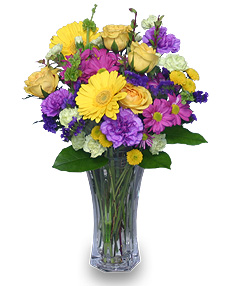 Flower Shop Network Expert Reply:
Flowers are a lovely gesture for any occasion. In fact, flowers and the theater have a very long history. Single stem roses were often thrown on stage at the end of a performance. The lead actress would pick these flowers up as she took her bows. So, it is perfectably acceptable to give someone flowers who is performing in a play.
Hand-tied flower bouquets are the beat flower choice for the theater. Depending on the situation and the recipient, you could give the actress a hand-tied bouquet of roses or mixed flowers after the performance.
If you want to send something prior to the performance, a vase arrangement would be the best choice. Your local florist can help you decide which type of arrangement is the best choice for your actress based on the theater.
This flower giving tip was brought to you by New York Florists who deliver flowers to the theater district on a daily basis.