Fall is my garden's grand finale, the last big hurrah of color before the long hibernation of winter. As the multitude of green hues of spring and summer fade, leaves begin to change color with the crisp cool air and sunny shortened days.
The fall season showcases plants in a rich palette of jewel tones—deep regal purples, pale lavenders, rich russet reds, the punch of orange, velvety maroons, sunny yellows and amber-like golds.
Fall blooms tend to last the longer, too, in both the garden and in bouquets—an added bonus to late season gardening! Try adding some of these plants below to bring jewel tones to your own garden. Many work beautifully as cut flowers for stunning bouquets that can bring the season indoors.
Strawflowers (Helichrysum Bracteatum)

Strawflowers

Strawflowers (Helichrysum Bracteatum) are "everlasting" annual flowers that can also be dried for winter bouquets. Hardy up to frost, they prefer sun to partial shade and are drought-tolerant. Native to Australia, where they grow as wildflowers, they come in a wide range of hues: yellow, orange, red, rose, white and pink, as well as this two-tone variety.
Spiderwort

One of my favorite flowers to grow and photograph is the perennial Spiderwort (Tradescantia x Andersoniana). These unusual three-petaled flowers grow in clusters and work as excellent filler flowers in arrangements. Other varieties include 'Snow Cap' (pure white), 'Valor' (deep purple-red), and 'Concorde Grape' (deep violet).

The original Spiderwort species, an easy-care favorite in country gardens, is Virginia Spiderwort (Tradescantia virginiana). It is one of the longest bloomers in my garden—putting on a show from June until fall. Spiderwort prefers full sun or very light shade for the most prolific blooming. It can be also grown indoors as a houseplant.
| | |
| --- | --- |
| Snapdragons (Antirrhinum majus) | An old-fashioned favorite in cottage gardens, Snapdragons (Antirrhinum majus) are self-sowing annual flowers that bloom prefer the cooler weather of early spring through early summer, but if they're cut back in the summer, many varieties will re-bloom in the fall. Available in purple, crimson, bronze, white, yellow and a range of pink hues, Snapdragons are excellent in beds and containers and are popular cut flowers. |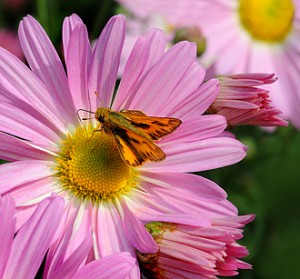 It wouldn't be fall without colorful Chrysanthemums (above). Commonly referred to as "mums," most varieties of these show-stopping beauties are considered annuals, although there are some that can be treated as perennials with good mulching in colder climes.
Available in a variety of colors such as white, yellow, pink, purple, red and bronze—some mum cultivars include single, double, and semi-double blooms, pompons, spoons, spiders, and aneomes. Mums require plenty of sunlight and well-drained soil.
I particularly like the 'Country Girl' Chrysanthemum (at right), which make beautiful cut flowers.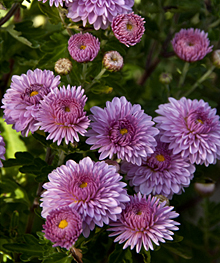 Another fall garden staple is the Garden Aster (left and right). Most Asters are cultivated varieties of the wildflower Michaelmas Daisy (Aster novi-belgii), which is a fall-blooming wildflower.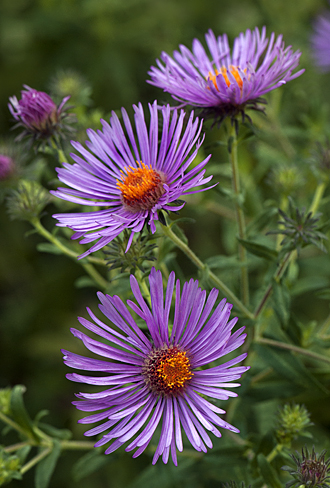 Delicate and daisy-like flowers begin appearing in late August and continue until the first frost, adding a splash of color to autumn borders. Easy-to-grow perennials, Asters come in blues, purples and a wide variety of pink shades. Garden Asters are extremely hardy and make good cut flowers for vases and arrangements.
One of my favorite Asters is the hardy perennial New England Aster (Symphyotrichum novae-angliae), shown at right. Blooming from August through October, New England Asters have feathery purple-violet petals with brilliant yellow-orange centers that add a pop of color to fall bouquets. Bumblebees honeybees, and other insects just love this plant! Combine this plant with goldenrod and native grasses for a spectacular autumn display. New England Asters grow well in sunny areas and partial shade.
Sedum
Another popular fall flower is the perennial succulent 'Autumn Joy' Sedum (Sedum telephium). A stone crop plant, it's long-lasting, cauliflower-like heads begin with a deep salmon pink color and mature to a reddish brown hue. Drought-tolerant once established, sedum blooms can last more than 1 week in a vase.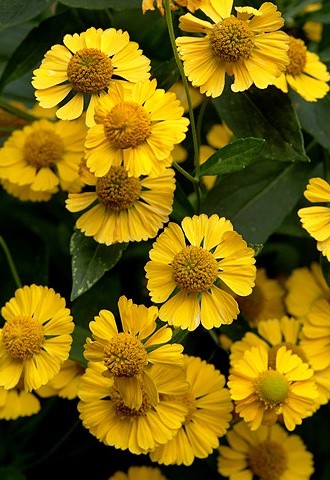 Helenium (Sneezeweed)
Helenium
I love the rich russet, reds, yellow and orange varieties of Helenium (Sneezeweed), also called Swamp Sunflowers. This hardy perennial (shown above) loves full sun and grows well even in soil with poor drainage. Cutting them back in early June encourages the plants to grow in a more compact, dense mound, much like Mums. In past years, I've grown a yellow variety but recently added the beautiful burgundy-red 'Ruby Tuesday' cultivar to my garden.
Other flowers blooming in my fall garden include a few color variations of
Butterfly Weed (Asclepias tuberosa), photo #1 (above)
Toad Lily Miyazaki (Tricyrtis), photo #2
Nippon Daisy (Nipponanthemum nipponicum), photo #3
Globe Thistle (Echinops Ritro), photo #4
Globe Amaranth or Bachelor Buttons (Gomphrena globosa), photo #5
In addition to flowering perennials, consider adding ornamental grasses or evergreen bushes with colorful berries to your garden for winter color, texture and interest. In the fall, goldenrod is covered with beautiful gold flowers. After frost sets in, the flowers turn white, then golden brown, and can be picked for dried flower arrangements. Joe Pye Weed, a large perennial, produces huge dusky purple blooms that are a magnet for butterflies, and stay attractive through the winter.
The beauty of gardening is that there is always something to look forward to in every season. As fall gives way to winter and I put the garden beds to rest, so begins the planning and dreaming of what to add to my little paradise next year.
Cindy Dyer is a freelance graphic designer and photographer in Alexandria, Virginia. Visit her blog at www.cindydyer.wordpress.com and her botanical gallery at www.cindydyer.zenfolio.com. She was recently profiled by Nikon in, "How to Grow Your Garden Photography Skills." She can reached at dyerdesign@aol.com. All photos © Cindy Dyer.