I don't know about where you live, but here I can't go 50 feet without spotting someone with a hair feather extension!? Not just teens either — kids, moms, grandmamas, even DOGS are getting hair feathers! It's definitely the biggest new trend this year! Why not add a little feather to your summer flower power?
Feathers have been taking over hair accessory trends since January. Everyone, including Miley Cyrus, Jennifer Love Hewitt, Selena Gomez, Ke$ha, Hilary Duff, "Glee" actress Jenna Ushkowitz, and many more stars have been seen with them. You can wash and even curl the feathers, and they will last in hair for months.
The feathers are real rooster tail and hackle feathers that are normally used for fisherman bait. The way they are placed in the hair is by using a metal bead in the hair and clamping it down on the feather. Check out this YouTube video for how to clip in a hair feather.
The purpose of these hair feathers is to add just a little more PIZAZZ to your hair; the same thing can apply to floral design. Don't get me wrong, florists have been using feathers for years, but why not play up this trend of small colorful rooster feathers?
Feather flowers make fantastic gifts for kids, teens and young adults. Imagine a brightly colored arrangement filled with hot pink Gerbera daisies and thin, spiky blue feathers.

Add a little flair or excitement to any design, feather colors produce the most beautiful tones. They can be really bold and hot, or simple and natural.
Now's the perfect time to run a feather flower special! Back-to-School flowers are a great way to say 'You're going to do great and we love you' for kids in school and those in college. Chances are, their flowers will match the feathers already in her hair!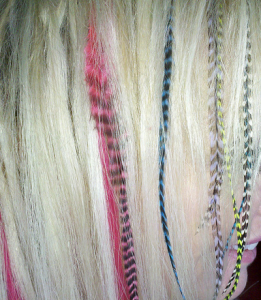 Using feathers in your floral designs is a great way to entice new and younger customers to your store. Posting an example of your new feather special on your Facebook page is a great way to see how the customers in your area will like it.
As hair stylist Theodore Leaf says, and I think it works for floral design and hair, "The most important thing is that they're done in a way that's tasteful and appropriate, like a well-edited cluster that's tucked behind one ear and just sort of pops out. They should whisper instead of shout. That's the key to pulling this off and not looking crazy." The look should be subtle: more casually bohemian than proud peacock.
Although I've seen feathers used in floral design, it's rare to see the bright colors used tastefully, (and probably because it's not that easy to do!) Perhaps these hair feathers will change the way we look at these neon accessories.
Florist Tip: Take notes from hair designers: many stylists are using feathers as an add-on sale to their everyday cut and styles. You can also offer feathers as add-ons to floral designs.
We would love to see how you use feathers in your designs. Post them in the comments below, or on our Facebook Page!