February Is Here! Time To Heat Things Up!

Favorite Flower Arrangement For February
Can you believe Valentines Day will be here in just a couple of weeks? This Valentines Day, skip the red roses and go for something with more of a BANG! Create sparks with this colorful mixed arrangement! Roses are still featured, but in brighter, bolder colors. The green fuji mums explode like fireworks throughout this design. There's no doubt these flowers are HOT!
Send some heat to your girl on Valentines Day with this unique, yet oh-so-stylish flower arrangement. The bright colors remind us warmer weather is on it's way! Who wouldn't want this delivered to them on their very special day? This arrangement is not only perfect for your sweetie, but you can also use it to show your affection to friends and family members on this day of love.
---



Top 5 Trendiest Flowers This Valentines Day
We've already discussed this month how Valentine's flowers aren't always roses and baby's breath. Going the extra mile to make it extra personal always pays off in the end. Here we've compiled a list of the trendiest flowers for Valentines Day 2012 (Coming up Feb 14th) that doesn't include roses! If you don't know your honey's favorite flower, I can almost guarantee she'll love one of these!

5. Alstroemeria
Alstroemeria is a beautiful and delicate flower that kind of resembles a lily mixed with a gladiolus. Their big, showy blooms come in many beautiful colors and are used by florists in so many creative ways. These flowers work well in many styles of floral arrangements, especially in traditional or garden-style designs.

4. Carnation
Carnations have made a huge comeback in recent years with the appearance of bright new colors and styles. Florists have also found incredibly creative ways to showcase this ruffly flower. And you've got to love their long-lasting abilities!
Carnations come in so many unique and vivid colors now, as well as different sizes and styles.
Continue Reading Top 5 Valentines Day Flowers…
---
Send Her Wedding Bouquet on Valentines Day
Still mulling over Valentines Day arrangements trying to find the perfect flowers to send to your sweetie? Well, let me give you a little secret, it really is the thought that counts. The more thought and time you put into choosing your honey's flowers, the more she will undoubtedly appreciate them. Include her favorite color, favorite flower or both! Use her favorite song as lyrics in the card message.
For a truly romantic gift of flowers, send her flowers just like the bouquet she used on your wedding day. I'm sure you have a picture of it, probably in your wallet, you can easily show your florist. Use the same colors and flowers to recreate this very special arrangement that means so much to your wife.
Read more about Send Her Her Wedding Bouquet of Valentines Day

---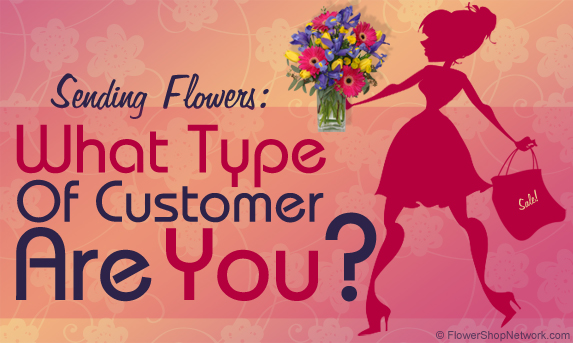 Buying & Sending Flowers For All Types of Customers
When ordering flowers, it's often for a special occasion or well wishing. For romance, birthdays, get well soons and even condolences, flowers are always intended to lifting the spirits of the recipient.
Sending Flowers? What Type of Customer Are You?
Type 1: Customer On-A-Mission
You know exactly what you want and won't stop until you've got it. Perhaps the person you are sending flowers to has a favorite flower that must be used. Maybe you have a specific centerpiece idea in mind and you must have it. Whether you are shopping in store, online or on the phone, make sure to ask about the specific items your arrangement must include.
A florist keeps a good amount of flowers in their cooler at all times. However, they can't possibly have them all. When ordering flowers from pictures, such as on a florist's website, sometimes substitutions will be made if the florist doesn't have a particular flower. Same goes for vase style, ribbon, etc.
How To Get Exactly What You Want:
Call! To make sure the specific flowers/vase/etc you want get used in your arrangement, call and ask if they have them in stock. If they don't have them in stock, the florist will explain what will be used to substitute, or how long it will take to get your full request in stock. If you are ordering specific flowers for an event, this is why it's best to order in advance.
Read more What Type of Customer Are You?

---
Florist Spotlight: How-To Build A Butterfly Garden With Your Local Florist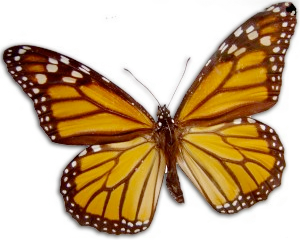 Last week, while our team members were at the Florida State Florists' Association Design Summit, they took a detour to visit one of our great member florist, Tim Ryan of Botaniq in Santa Rosa Beach Florida. Tim was in the middle of teaching a Butterfly Garden Workshop right there at his flower shop! You might be surprised at all the things local florists are doing these days to bring back the love of flowers in their community.
This isn't Tim's first workshop, he's done: fresh cut flower arranging, orchid gardens, terrariums and more! Guests get together and learn what it takes to create a beautiful floral designs and gardens, as well as the techniques it takes to take care of them all. For the butterfly garden, guests will put together a beautiful planter filled with tasty plants for butterflies. Tim shows his workshop guests how to take their planter to the next level by adding river cane as a trellis. A simple technique that adds big impact!

See The Video & Learn How To Make A Butterfly Garden Planter With Tim!

---
Need a Great February Birthday Gift?



You can never go wrong sending flowers to someone on their birthday. Gazing at beautiful flowers will create sweet birthday memories to hold close to heart. Especially if your recipient works at a desk job. There's nothing better than having your beautiful birthday gift greet you with it's vibrant colors every morning when you walk into your office. It's like celebrating a birthday week instead of just a birthday~!
For a February birthday, flowers are especially sweet. They remind us spring is right around the corner!
So how do you send flowers for a February birthday? Purple Purple Purple!

Well, normally you can choose the monthly flower, but February's official flower is the violet, which is more of a garden flower than a cut flower used by florists. Violets are still beautiful and make a great gift that lasts. Call your local florist and see if they have these available.
Continue Reading February Birthday Ideas
---
FLOWER CARE TIP
Avoid placing flower arrangements in
windowsills and other areas with
full sun
where flowers can wilt due to overheating.
More Flower Care Tips
WE'RE SOCIAL!







Love flowers? Follow us on the above Social Networks! We are always sharing the latest articles from our Bloomin' Blog, as well as the most fascinating news on the net!
You Might Also Like



Streeeeetching Creativity With Your Local Florist
Isn't it great to be in a business where we are able to be creative!! Sometimes my customers streeeeetch my creativity to it's limits, but I think that is how it grows!! Love my customers & this business…I think unique requests keep our minds from growing stale!!

Bright Hues Cure Winter Blues
Lack energy? Feeling unmotivated? Sounds like you have a case of the Winter Blues! The winter blues tends to get everyone this time of year. With the short, gray days, frigid cold weather, and lack of flowers outside, it's easy to fall into a slump.
Spring Flower Shows & Conventions
Have you started planning your schedule for the 2012 flower shows and florist conventions?? It's only January, but the list of great shows this year is filling up! If you want to see the most incredible floral ART possible, learn edge-winning design techniques, have a whole lot of fun and fill up on inspiration, attending a floral convention is a MUST!
Laissez Les Bons Temps Rouler! — Let the Good Times Roll!
Don your most elaborate and colorful costumes; gather your beads and doublooms— it's Mardi Gras time! As they say, laissez les bons temps rouler — Let the Good Times Roll! Mardi Gras 2012 is February 21st.
Help make Flower Shop Network's monthly newsletter even better! Got questions? Have an idea for a story? With your help, we can make the FSN newsletter just what you want and need. You can drop us a note in the comment section on the blog or email us at social@flowershopnetwork.com. We can't wait to hear from you!