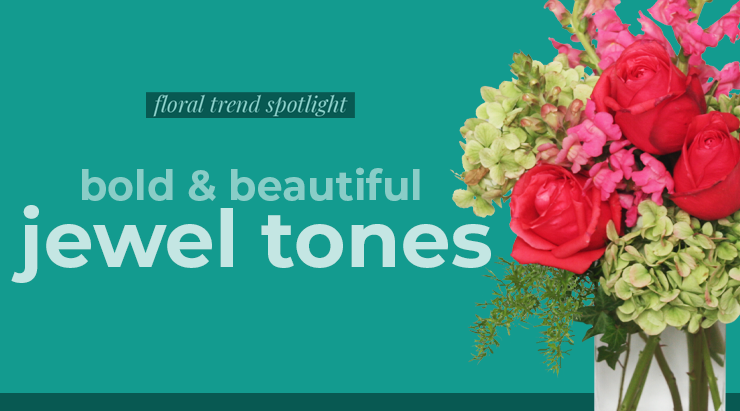 This year, one of the hottest flower trends is to use accents of intense jewel tones alongside softer hues. These rich and bold shades tend to stand out and create a striking visual in a perfectly balanced arrangement. We're exploring some of the best flowers to use for this trend to make the arrangement you send truly memorable.
Vibrant Fuchsias & Elegant Purples
A pop of bright fuchsia next to a pale peach or green will draw eyes to any flower arrangement. Ask for fuchsia anemones or carnations to punch up the color! Deep, vibrant purples paired with yellows or greens also make for an eye-catching combination. Tulips, lisianthus, or carnations are all great choices when picking a jewel-tone purple.
Ruby Reds & Deep Corals
With so many colors available, roses are a perfect choice for this trend. Consider asking for deep coral roses to be included against paler pastel shades or greens to contrast. Gerberas are also available in many colors, including deep reds and oranges that would look gorgeous placed sparsely in an arrangement filled mostly with a contrasting color.
Emerald Greens & Bold Blues
Green can be a tricky color to feature in a flower arrangement since most flowers stems are a shade of green. However, think about choosing a flower like green alstroemeria or green trick dianthus to feature the color prominently against pastel flowers such as peach or lavender. Vibrant blues are a beautiful choice to use in this trend! Pair blue irises with yellow tones for a stunning combination. Other great blue options to impress include hyacinth or delphinium.
Any type of flower can be used in this trend—just be sure to ask for a gorgeous jewel tone paired with something not quite as vibrant to make it work. Try sending one of these arrangements from your local florist for a trendy, bold, and beautiful look that anyone would be happy to receive!