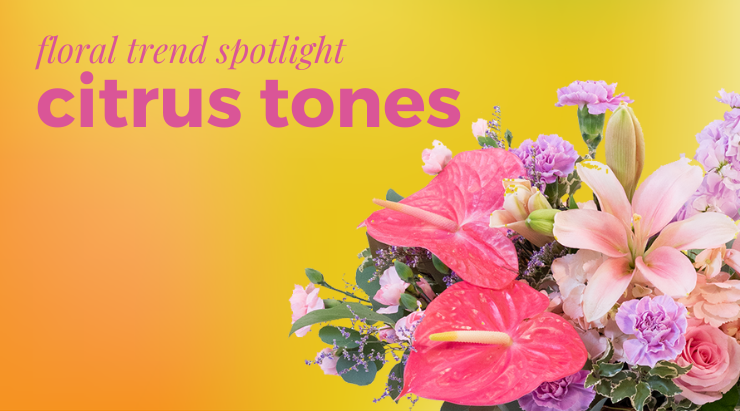 One of the hottest flower trends right now is citrus tones! This trend utilizes vibrant colors alongside more muted tones to create something truly spectacular. These bright and bold shades create a striking and colorful display, perfect for summer! Here are some ways you can incorporate this floral trend into your next floral arrangement!
Color is everything!
You can't have a citrus vibe without citrus colors! Pair bold pinks, vibrant oranges, and beautiful yellows with soft greens and whites to get the full effect of this trend. Feature all the colors or just highlight one—it's sure to be a show-stopping arrangement either way!
Get Fruity
When life gives you lemons, make a bouquet! Whether you use lemons or oranges or some other citrus fruit, that arrangement is sure to stand out. Paired with darker greens like silver dollar eucalyptus and soft whites like hydrangeas, this arrangement is sure to draw everyone's eye!
Try Tropicals
One of the easiest ways to get the vibrant citrus colors you're looking for is to use tropicals! From Heliconias to Anthurium to Ginger and so much more, you can get stunning and strikingly vibrant colors with just one stem. Pair them with the softer tones and darker greens and you've got a breathtaking bouquet!
Add some citrus vibes to any occasion or room with a fresh flower bouquet! Just be sure to ask for gorgeous citrus tones paired with some softer tones to make it work. Order a trendy, bold, and striking bouquet today!