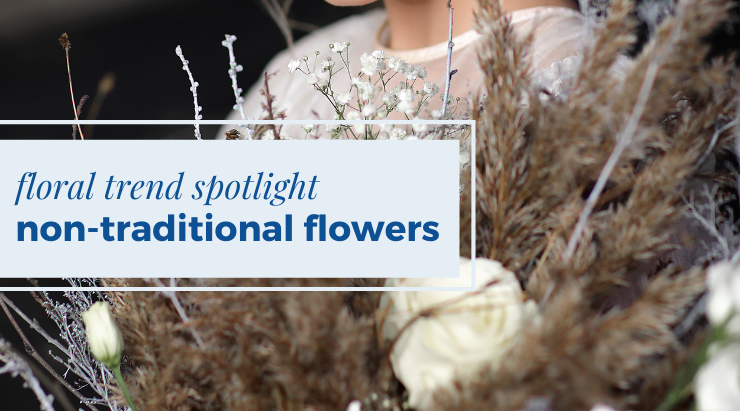 One of the most popular floral trends recently has been non-traditional flowers! These unique additions can add a flair of fun and make every bouquet one-of-a-kind. Here are some ways you can add some non-traditional elements to your next arrangement!
Dried Flowers
From lavender to baby's breath to daisies and more, dried flowers are the perfect way to add some rustic or vintage vibes. You can even add in a touch of greenery to really make them stand out! Plus, they're a great way to create a full and elegant bouquet for less cost.
Fruits and Vegetables
Have fun and make your bouquet unique by adding fruits and vegetables! From oranges to peppers to kale to lemons, fruits and vegetables can add bright pops of color to any bouquet. It's the perfect way to make your bouquet unique!
Foliage
Using non-traditional flowers can be more than just fun—it can also be sustainable! Make an unexpected decision and be different by adding some fun foliage, like succulents, cones, cotton, cactuses, and more. It's a great way to get a unique bouquet and be environmentally friendly.
Wheat and Herbs
Add some neutral tones to your bouquet by using wheat and herbs! Not only are these non-traditional and unexpected, but they're sure to make the other flowers stand out. It's the perfect way to capture that boho feeling you've always wanted.
Using non-traditional flowers is a great way to add some unique twists to your bouquet and stretch your budget! Make the most of this trend and ask your florist to use some non-traditional flowers the next time you order!