We just got back from the Florida State Florists' Association's Mid-Season floral convention. The theme of the show was FLOWERADE – Hydrate and Refuel Your Creativity and the florists attending really did get refueled with creativity! Flower Shop Network also sponsored designer Anthony Swick, CFD, FSMD, during his Floral Mechanics presentation.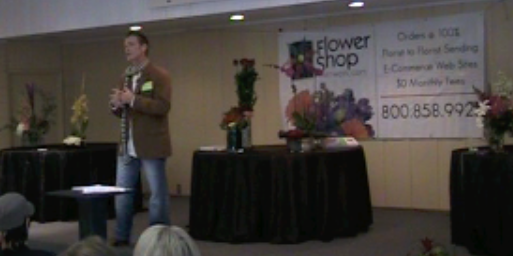 Other presentations from the Florida Flowerade Convention included:
Hand-Tied By Design, a hands-on class by Sylvia Bird, AIFD
The Green Thumb — Growing Your Plant Sales by Christina Brown, horticulture specialist

How To Market Your Wedding Biz

by Jacob McCall and Bobby Kyser
Weddings A-Z by Deborah De La Flor, AIFD, PFCI
Creative Foliage Accents a hands-on class by Dan Hathcock, AIFD, ISES
Perfect Parties & Exceptional Events by Alex Jackson, AIFD, PFCI
As you can see, there is a lot to learn for florists at your state conventions. It's always good to come out and meet others in your industry, but also take home some much needed inspiration and FLOWERADE!
Also at the Florida State Florists' Convention this year, was their floral design contest, Save Your Sole a shoe art competition. I know what you're thinking, shoe art? YES! Well, shoe art with flowers! Just take a look at these amazing pictures from the event:
It's easy to see why florists have SO MUCH FUN at their job. The winner of this competition received $200! If you're a florist and have never attended a state convention,  WHAT ARE YOU WAITING FOR?!
Florists! Check out our Floral Conventions and Flower Shows page and start planning NOW to attend your floral convention — it's SO worth it!
Here are more pictures from the Florida State Florist Convention:
This post is brought to you by local Gainesville, FL florists.
Not in Florida? No worries, Flower Shop Network connects you to your real local florist. Use our handy florist directory to find your local florist today!!