When you think Halloween, your local florist is probably not the first thing that comes to mind, but that is all about to change! Florists everywhere are really sinking their fangs into the spirit of Halloween.
Your local florist is a great place to turn for unique Halloween gifts and decorations. Many offer a huge selection of festive gift items that go far beyond Halloween flowers. If you are hosting a spooky party, turn to your florist for more Halloween decorating tips and ideas.  Probably a favorite trend this 2010 Halloween are handcrafted gifts and decorations. Visit your local florist now to see what great holiday items they have available.
Check out these pics of Halloween displays posted to our Facebook page by local florists all across the nation: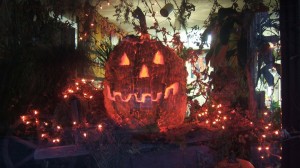 This amazing light up pumpkin sits in the window of Frey Florist in Providence RI.
Check out the cool Halloween gifts they have on display at Every Blooming Thing in Akron OH. If you look closely in his Halloween window display you can see his shop mascot, Iris, pretending to be spooky.
Lisa says, "This ghost wasn't there when I took this picture. I noticed it after downloading it from my camera. I think we're haunted… We lured folks with candy to stop by, if they dared…" Haunted window display by Banda's Bouquets in Longview WA.
These fun Halloween decorations were sent in by Blossom Shop in Strasburg CO. Watch out Kitties! Frankenstein is after you, (with candy!)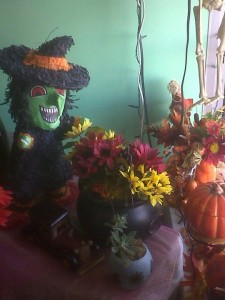 Halloween piñata? What better way for kids to get candy than inside piñata? Great ideas from Venus Flower & Gift in Denver CO.
Fun Halloween decor from Sea Mist Flowers in Cambridge, MD.
This post is brought to you by local Salt Lake City UT florists.
No where near Salt Lake City? No worries! Use Flower Shop Network to find a real local florist near you.