This incredibly sweet story was shared with us by Maryjane's Flowers & Gifts, Berlin NJ.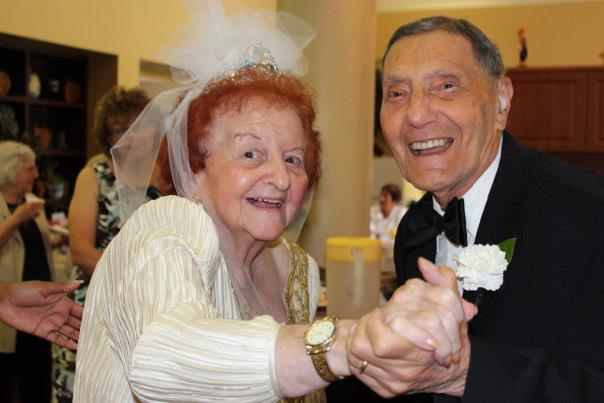 Being a florist is a very fulfilling job because you get to help people celebrate the most important and special occasions in their life. That was just the case for Sandra Hooper of Maryjane's Flowers & Gifts in Berlin NJ. She was asked to help a couple at an assisted living center celebrate their 65th (no, not a typo!) wedding anniversary.
Sandra was given a copy of their wedding portrait and was able to copy the original wedding bouquet almost exactly. What memories that must have stirred up!
Here you can see the beautiful bride and her wedding bouquet remake of the original. "She said it couldn't have matched it better!!!"

 In addition to donating the wedding bouquet and boutonniere for this joyous occasion, Maryjane's also created a lovely anniversary flower centerpiece for the happy couple. "Since it was for the wedding, they got roses and stock…smelled wonderful!"
If those are the most precious pictures ever, I don't know what are. I can't even imagine being with someone longer than I've been alive. The love they share is timeless, and increasingly rare these days.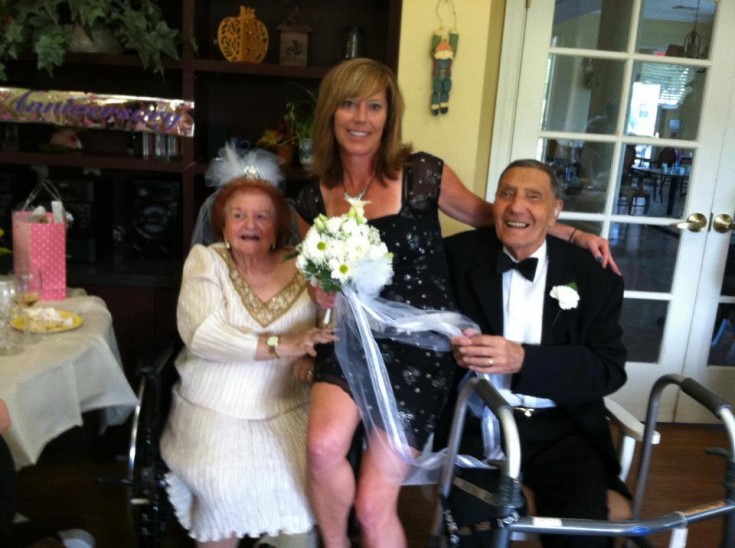 "They had a wonderful day from talking with the activities director (pictured center)," says Sandra.
Sandra and her team at Maryjane's should be proud of what they're doing to help who need it most. At the end of every week, Sandra takes what flowers still look nice, but won't sell, and puts them in large vases to take to her local assisted living center on Saturdays.
"Terrie (the one in the middle of the one picture above who caught the bouquet) is the activities director. She called us about a year or so ago and asked if we could donate left over flowers at the end of each week. Then she told me she understood if we can't since she had already called 4 other florists in the area and they all told her 'no'."
"Can you believe that? Well, I couldn't."
"We do corsages for all the ladies on Mother's Day, and the men on Fathers Day. Every week, weather it is roses or pom poms, they head down there on Saturday. But that is me; what goes around comes around, and I am a believer in that. Had it pounded into my head by my grandmother growing up."
This is a lesson we should all try to remember a little bit better. This story of love and generosity is truly inspiring.