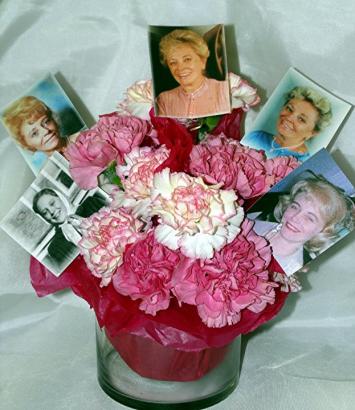 Every florist looks forward to Mother's Day rolling around, but for this Berlin NJ local florist, 2010 Mother's Day holds a very special meaning.
Sandy Hooper and her mother, MaryJane, ran their flower shop, Plum Point Gifts, together from 2003 until just last May. "We were doing OK, but not the best," said Hooper. "For some reason, last May my mother told me to close down. We didn't know why. We thought maybe she wanted more time."
Soon after they closed the shop, MaryJane took a turn for the worse, and in September, MaryJane passed away at age 74.
But the story only begins there, Sandra was able to open a new flower business, just four months ago. The name of the shop? MaryJane's Flowers, in honor of her mother.
Business has been thriving in just those short months — with Sandra's close connection to Mother's Day, its no wonder! Sandra created the beautiful, personalized Mother's Day bouquet (seen above) in honor of her mother and since it has been featured in our April Newsletter, as well as written about in her local newspaper.
Congratulations, Sandra, on your new shop, and for inspiring all of us to do something great to honor our moms this Mother's Day.