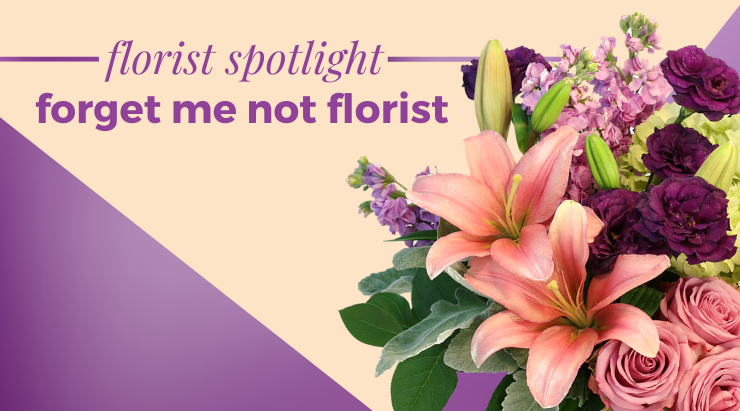 At Flower Shop Network, we're grateful to work with many amazing local florists and we want to share their stories with you! This month, we're highlighting Forget Me Not Florist. Owner Rebecca Fitzgerald has been in the floral business for 22 years. Learn about Forget Me Not Florist and what advice they have for other florists!
What inspired you to become a florist?
My grandmother was a gardener and always had fresh flowers in her home. I have stayed inspired by being able to get the most unique and beautiful flowers. The key to our long-term success has been the ability to keep this inspiration alive and use it to make beautiful arrangements for our clients.
In your own words, what would you say is the key to your success?
The key to my success is our exceptional customer service and willingness to go above and beyond what we need to do for our customers. Every arrangement that is ordered is custom designed and unique – even on a holiday when there is high demand.
What's been your biggest challenge as a florist?
The biggest challenge we face is educating our clients on the cost of flowers and labor. Wedding work is a huge part of our business and many couples don't understand how much work, effort, and time goes into creating beautiful arrangements for their wedding day.
What's been your biggest resource?
Our biggest resource has been our relationship with our wholesalers and customers. We have been able to count on our wholesalers to provide exceptionally fresh and unique flowers.
How has the industry changed since you started?
The internet and social media have totally changed how we do business since I started 22 years ago. We are able to pull from a lot of different resources by having the option to order online. The types of flowers we can get now because of the internet has changed how we do business.
Where do you see the floral industry in the next 20 years?
This is really hard to answer because of the current Covid-19 situation. Many farms, wholesalers, and businesses have been greatly affected by this. I hope that the industry continues to change and evolve to feature more beautiful flowers.
Any advice for the next generation of florists?
Stay creative! Design different arrangements every day. Find the most unique product you can find to challenge your style and design differently.