Have you heard the one about the florist who gave away flowers and turned a horrible situation into wonderful act? Well I did and the story happened Monday to a Walnut Ridge Florist.
Karen Williams of Flower Basket in Walnut Ridge, AR just turned lemons into sweet, sweet lemonade. Karen is an expert designer who won several awards at the AFA Convention this past weekend including 1st place in the wedding design category and 2nd place in the scholarship design competition. Not only is she a decorated florist with more than 35 years experience, Karen's a giver. Literally. She's involved in several local charities but it's even more heartwarming than that.
Karen's prize-winning flowers were snatched so quickly that only a picture remained to pose with for this photo!
Karen's cooler went down yesterday. Instead of pouting over the day's losses or letting a pretty major setback get her down, Karen instead called the nursing home in Walnut Ridge, Arkansas. She asked how many residents and staff were there and then made arrangements to deliver the flowers to them including passing out more than 150 roses. Karen told Joe Hays FSN network coordinator "I just couldn't see all those flowers going to waste when someone else could enjoy them."
Joe was so moved by Karen's story that he told everyone in the office how amazing she is and how she is deeply committed to her community. Having driven through Walnut Ridge several dozen times in my life, I'm almost compelled to stop by Flower Basket and hug Karen for being so sweet. I'll be honest. My heart melted a little when I heard about it and I couldn't keep from passing her story around. Maybe the goodness will become contagious. After all, if I'm tempted to drive that far to hug someone, imagine what good can come from something like that in other towns.
Of course florists are like that, their sense of commitment to their community is strong and their need to share the beauty of flowers is great. My hat is off to Karen – thank you for renewing my faith in people. Sounds like Karen and the Flower Basket deserve a Good Neighbor Award as well.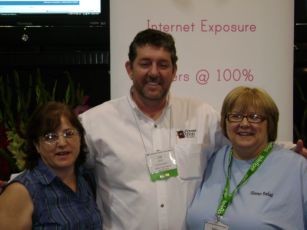 Making friends is easy at florist and flower shows. Rhonda Sade (left) and Karen Williams (right) became buddies quickly in Hot Springs.