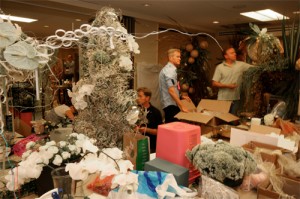 The dreaded back room…. every florist knows exactly what I mean… The old vases, the stale and crumbly floral products, the mounds and mounds of ribbon, buckets, boxes… ya, the back room…
I'm here to tell you, it doesn't have to be scary! The backroom is a great place for florists to GET CREATIVE! Think of it as your artist's studio. It's time we see all of our old junk for what it is = $$!
Sell-able – if its sell-able, get it OUT of the backroom!
Vases – Those decorative "It's a Boy!" new baby flower vases won't sell themselves! Put them on the self for impulse buyers! "Oh this is sooo cute, my friend just had a boy, she'd love this!" Put a variety of vases on your shelves; add a few quick-and-easy hand-tied bouquets for examples.
Ribbon – create a Ribbon Station in your shop! This is a great way to show the types of ribbon you carry. Also consider selling your ribbon by the yard. Crafters and scrapbookers LOVE ribbon and you will quickly become a favorite stop!
Wedding/Party Supplies – Create unique floral environments with your party and wedding supplies.
Usable/Recyclable – Step out of the box for a second and take a look at your backroom… See anything you might use or 'reuse' in some way?
Packing Materials – See the picture to the right? Those circles are made of white polycord strapping material. You know, the white cords on your shipped boxes. I've also seen top floral designers use cardboard, cellophane, mailing tubes and so much more!
Candles – Many people burn candles in their shops and homes… Don't throw away those lovely jars after the wick is spent! Put the used candle into your freezer! After a few hours, the used wax should shrink just enough to pop it out. You might also start a candle-jar recycling program.
Stencils – One way to give new life to an old vase is by stenciling a new design! Your local craft store will have a large variety of stencils for you to use. You can use regular craft acrylic paint on your terracotta vases and enamel paint for your glass vases.
Labeling – after things sit in our backrooms for a while, we forget the true value of what we have.
A great tip for keeping up with our $ and backroom is by labeling everything with the amount we paid for it. You can easily see how much money you have sitting on your shelves. Next time you get a shipment of decorative vases, label them! ([total shipment cost] ÷ [number of vases]=total $ per vase) Now, you can quickly price a small, for-pick-up arrangement at a lower price without worrying about losing $. (Great for sales, promotions and clearance events!)
This post is brought to you by local Cambridge MA florists.
Not in Cambridge? No problem, use Flower Shop Network's real local florist directory to find YOUR real local florist!