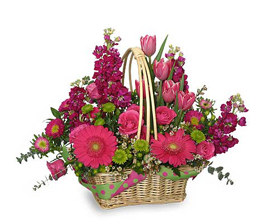 FSN's Favorite Flower Arrangement for April
Looking for a great flower arrangement to send to your favorite relative this Easter? Maybe you know someone who has an April Birthday?  Missing You Bunches is the perfect arrangement for any occasion in April! Flowers in a basket are an iconic tradition for Easter and are a perfect way to get into the spirit! No matter what age or personality, Missing You Bunches is a sure winner!
Find More Easter Flowers

This post is brought to you by Milwaukee, WI florists.
Not in Wisconsin? No worries, use Flower Shop Network to find your real, local florist!