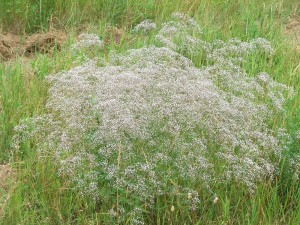 Who knew this extremely common, floral favorite would be the next big breakthrough in medical science?
Extracts of Gypsophila paniculata, or Baby's Breath contain saponins, and could have the ability to boost the efficiency of anti-cancer drugs by a million times!
This makes it easier for the immunotoxins (antibody-based drugs) to attack the cancerous cells. As a result, the immunotherapy used to treat certain types of leukaemia and lymphoma is increased in potency by 'over one million-fold'.
"I am usually careful about the words I use with things like this but this discovery could truly revolutionise the way these antibody-based drugs work and it will save lives.
"And this doesn't just apply to leukaemia, there is a really big possibility this can be used for many cancers too." -Dr David Flavell
The breakthrough was discovered by the charitable organization Leukaemia Busters. The team plans to start clinical trials in the near future and hope in 3 to 5 years to have a usable treatment for Leukemia patients.
So next time you're stuffing that Baby's Breath into a bouquet you may think twice about it's importance. It could be that Baby's Breath has been the cure for cancer all along!
This article is brought to you by Cambridge MA local florists.