Representatives from Flower Shop Network attended the Northeast Floral Expo in Hartford CT on March 1st and 2nd.


From upper left to right: Joe Hays, Loranne Atwill, Brock Atwill and Leslie Cox.
New England florists and vendors attended floral design, business and technology seminars and presentations. New business relationships were forged and products were purchased and sold. High School students competed in floral design and select florists displayed some amazing work. Congratulations to the officials of the Northeast Floral Expo for another successful show.
Renato Cruz Sogueco, Chief Information Officer with SAF visited our booth after his presentation on how to be a web savvy florist.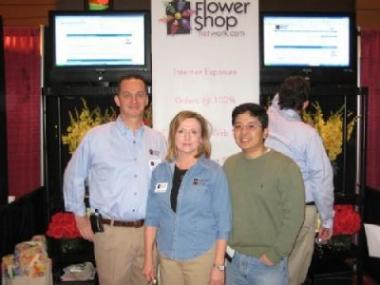 Renato's seminar was attended by more than fifty florists interested in claiming their place on search engine results. It is apparent that owners are realizing the Internet is the new preferred way for customers to shop and order flowers. Renato relayed the story of a shop owner in Denver, located directly across the street from a large hi-tech company. The shop owner said that almost 30% of his revenue came from the employees of that building, although he had never had a single one of them come inside his shop. Renato expanded on the point by saying that Generation Y (kids these days) are more comfortable online, than on the phone.
Renato outlined some basic ways to improve your website's appeal to the search engines, pointing out that content in the form of keyword rich text was really more important than "pretty pictures"or flash.
Blogging as well as exposure on social networking sites such as Myspace.com and Facebook.com and even YouTube.com are ways to gain more exposure for a flower shop's website, according to Renato.
In the end, a shop wants to wrap up as many postions on the natural results as possible. Ways to accomplish this are through listing with online floral directories, such as FlowerShopNetwork.com. For more information on Renato and SAF visit www.safnow.org.
Joe Hays of Flower Shop Network meets member Jenny Thomas of Oak Hill Florist from Scarborough, ME.
Flower Shop Network members Dot and Paul Chenevert of The Green Oak Florist in Hyde Park, New York, talk to Leslie about their new FSN website.
Our neighbor at the show also happens to be the representative for our phone system here at work. We would highly recommend anyone looking to improve communications to contact Kelly Lumpkin of Alternate Access about their TeleVantage system.
A member of our sister site, FGmarket.com (wholesale directory for floral and gift products) , Carroll Hunt, is always good for a laugh and a positive attitude. Carroll offers a delivery product that we personally used back when we had a flower shop. We highly recommend it. Check out their website at SeminoleDeliverySystem.com.
Thank you to the officials of the 2008 Northeast Floral Expo for producing a very productive show. We look forward to seeing all of you again in 2009.