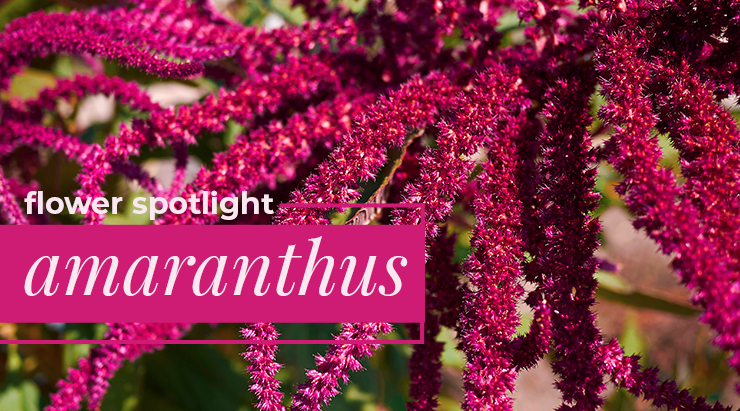 Amaranthus is a unique flower due to its interesting texture and tassel-like appearance. Keep reading to learn more about its origin, meaning, and some interesting facts!
Origin
Amaranthus originates from Peru. It was a staple food for Aztecs, who also used it in religious ceremonies. Today it is cultivated in Africa, India, China, Russia, and parts of South and North America. Amaranthus gets its name from the Greek "amarantos," which means "never-fading" or "one that does not wither." It holds its color and shape, even after drying, which makes it a great flower for crafting, wreath-making, and flower arranging. 
Facts
Also known as the tassel flower, love-lies-bleeding, prince's feather, Joseph's coat, and pigweed, among other names.

In many South American countries, amaranthus is commonly sold on the streets, popped like popcorn.

Its seeds can be eaten on their own, similar to quinoa. It has a naturally nutty and peppery flavor. 
Meaning
Amaranthus is considered a symbol of immortality due to its longevity. Because of this, it has become a representation of unfading affection and everlasting love when given as a gift in flower arrangements. It can also symbolize good luck and prosperity. 
With their long-lasting blooms and interesting appearance, amaranthus makes a beautiful addition to any flower arrangement! Ask your local florist to include amaranthus next time you send flowers.