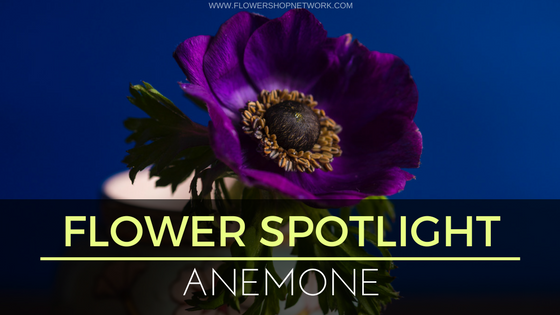 Anemones, not to be confused with the sea creatures, are a mysterious flower with many meanings. You won't find them growing in the ocean, but they can be found all across the globe. There are more than 100 different varieties and they come in many different colors. 
Origin and Symbolism
Like many flowers, the Anemone has one of its origins in Greek mythology. It is said that the anemone flower was born from the tears Aphrodite shed while grieving the loss of her beloved Adonis. Anemones are also sometimes called windflowers. In Greek, anemos means "wind" and the suffix -one means "daughter".
Different cultures hold a variety of meanings for the anemone. These meanings also vary based on the flower's color. In Greek, the anemone symbolizes the arrival of spring, and also the loss of a loved one. The Victorian Language of Flowers said the anemone represented a forsaken love. Some Eastern cultures view the anemone as bad luck, while some Western cultures view it as a protection against evil.
Fun Facts
Anemones and poppies are often confused, and there is a poppy anemone. But true poppies and anemones are only distant cousins.
All parts of the anemone are poisonous but were used as medicine in the past.
Anemones are bulbs and are best planted in the fall to bloom in the spring.
There are varieties of anemone that bloom in the spring, summer, and fall.
Availability
Anemones are most abundant in the spring but can be found October through May. They come in most colors including red, orange, yellow, blue, purple, pink, and white.
Find your local florist and ask to add anemones to your favorite arrangement!