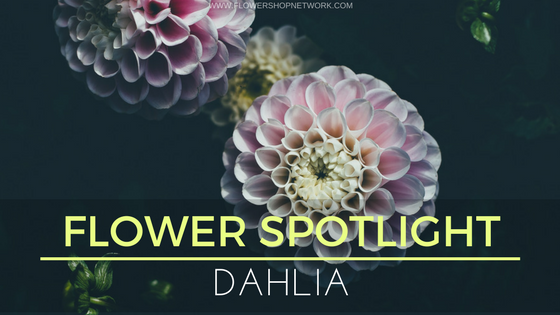 Imagine a flower that comes in almost as many sizes as it does colors. One that has had mysteries named after it and brides can't seem to get enough of- Dahlias. They are romantic, mysterious, and so varied that they can often be mistaken for other flowers.
History
Dahlias are native to Mexico and Central America, where they were considered vegetables, not garden flowers. The tubers were introduced in Europe in the 18th century and they became known more for their blooms than their edible roots. The dahlia was brought to Europe by Abbe Cavanille and he named it after the Swedish scientist, Andreas Dahl.
Symbolism
The dahlia has many different meanings, and as with most flowers, this meaning varies by the color of dahlia given. The dahlia most commonly symbolizes dignity, elegance, commitment, diversity, and instability or betrayal.
Fun Facts
The dahlia genus was renamed Georgina in 1803 in error, and is still referred to by this name in some parts of eastern Europe.
The flowers on the dahlia can range in size from one inch to as big as a large dinner plate.
There are more than 40 recognized species of dahlias in existence.
Dahlias come in every color except for true blue and black. Dahlias that are traditionally known as black dahlias are actually burgundy.
They can have single or double flowers, as well as a ball, pompon, cactus, and waterlily types, among others.
Availability
The dahlia is often referred to as the most popular flower of the summer and often bloom into the fall. They can usually be found at your florist year round.