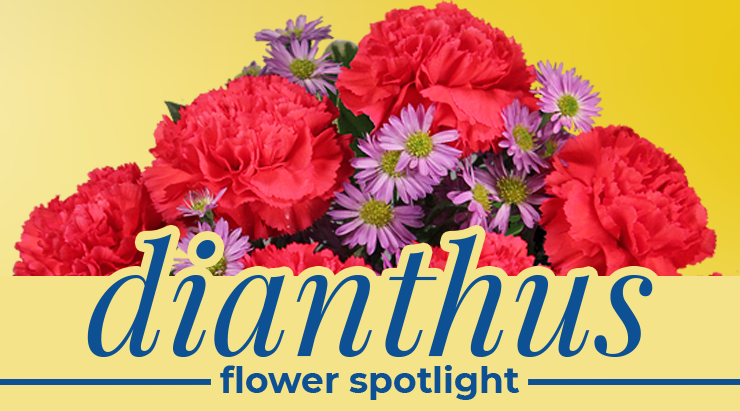 Dianthuses have been around for centuries. They're more commonly known as carnations and come in almost every color of the rainbow. Keep reading to learn more about their origin, meaning, and some interesting facts:
Origin
Dianthus has been around since ancient times, dating back 2,000 years. They are mostly native to Europe and Asia and have about 300 different species. Dianthuses are known for their beauty and long-lasting freshness. They also often have a spicy fragrance that's clove-like.
Dianthus gets its name from the Greek words "dios" meaning "god" and "anthos" meaning "flower", making the literal meaning of Dianthus "flower of Zeus." It's because of this meaning that dianthus is considered a divine flower, or the flower of the gods. They were even used in ancient Greece for ceremonial crowns.
Facts
Dianthuses are edible and are used as edible decorations/garnishes on salads, cakes, and desserts. Even breweries, distillers, and wineries sometimes use them as flavor additives.
They've been brewed in tea and used as a remedy to reduce fevers, stomach aches, chest congestion, and more.
Dianthuses are the official Mother's Day flower in many places around the world and bloom in both spring and late summer.
Meanings
Dianthuses have many meanings, symbolizing many things from admiration to passion. Each color symbolizes something different. White symbolizes purity and luck, light red symbolizes admiration, pink symbolizes gratitude, while dark red symbolizes love and affection. You can say a lot with dianthuses!
Beautiful and bright, dianthuses make the perfect accent or standalone flower in any arrangement. Be sure to ask your local florist to use dianthuses, or carnations, the next time you send flowers!