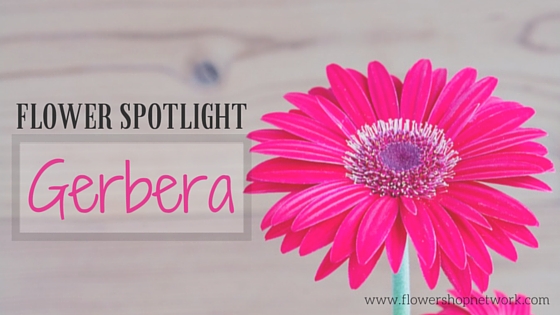 Gerberas top the charts as the fifth most popular flower in the world. Their dramatic appearance and ability to last up to two weeks in a vase has made this flower famous. This bloom comes in a variety of bright and pastel colors, making it perfect for any occasion.

Origins & Symbolism
Gerberas are named after Trauggott Gerver, a botanist and physician from Germany in 1737. The flower originates from South Africa, Asia, and South America.
The Gerbera Daisy is a symbol of innocence, purity and cheerfulness. It is a member of the family of daisies, asters and sunflowers. Legend has it that the Gerbera is a symbol for modesty. According to the legend, a nymph, so incredibly beautiful, was never left alone by suitors. She was so tired of being followed that one day the nymph, in order to have peace, decided to turn herself into a Gerbera Daisy.
Availability
Surprisingly this beautiful flower has only been around flower shops for about thirty years now. Gerbera flowers grow about seven inches wide with layers of small thin petals. The flower can be pink, red, orange, yellow, cream or white. Gerbera daisies pair beautifully with other flowers, foliage and textures.
To Consider
This flower is actually a herbaceous perennial. In the right conditions, the flower can die back to the ground but will regrow from parts of the plant that remain alive underground.
Many plant experts have chosen the Gerbera Daisy as the top choice for individuals with sleep apnea. Scientists say that sleeping in an area with lots of oxygen increases the duration of sleep. This plant absorbs toxins and carbon monoxide, emitting plenty of oxygen at night.

Visit your local florist and you will find not only gerberas but many more astonishing blooms! If you can't decide what arrangement or flower to get, ask for advice! The best part of dealing with your local florist is the personalized attention.
 

Find your local florist and order a fresh arrangement for your home today!