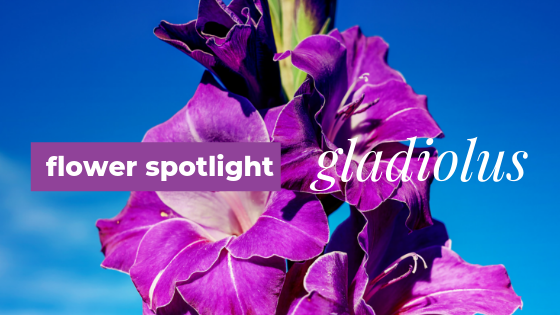 Gladioli plants produce beautiful, 3-foot flower spikes, covered with orchid-like blooms. They stand beautifully in vases and are equally beautiful in containers and perennial gardens.
The gladiolus flower commonly symbolizes honor and remembrance, but can also symbolize the following:
Strength of character
Faithfulness, sincerity, and integrity
Infatuation
Never giving up
Gladioli don't have a specific meaning attributed to them for particular colors. The flower is often seen as a symbol of fond remembrance and honor, and is often included in funeral sprays. However, traditional meanings of flower colors may be applied to gladioli to give them special meaning to the recipient.
Red- love and passion
Pink- femininity, compassion, motherly love
White- innocence and purity
Yellow- cheerfulness and compassion
Purple- charm, grace, and mysteriousness
Gladioli are the birth flowers of August.
It is also the 40th-anniversary flower due to its symbolic meaning of infatuation and remembrance.
As beautiful as these flowers are, be sure to keep your gladioli away from dogs, cats, and horses. They are poisonous to these animals.
Gladioli are part of the iris family, and there are over 250 species! They originated in South Africa, but can now be found all over the world, including: Africa, America, Europe, the Middle East, and Madagascar.
Make sure that gladioli are available next time you send flowers by checking with your local florist!