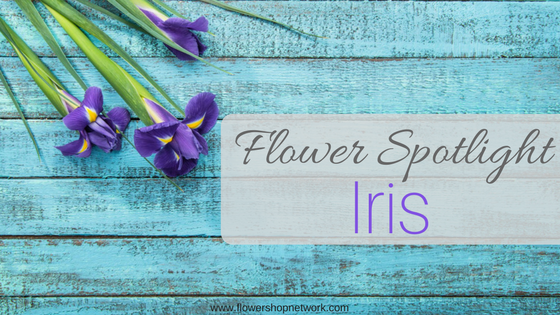 Irises are a unique flower. Their distinct shape makes them a welcome addition to floral arrangements, and their range of colors makes them a welcome site in flower gardens. There are more than 200 species of iris and they can be found in all corners of the globe.
Origin and Symbolism
The iris has a rich history, dating back to ancient Greece and Egypt. It is named after the Greek messenger goddess, Iris, whose name roughly translates to "rainbow,"  and is very fitting for a flower that comes in almost every color.
Irises are a very important flower in relation to the language of flowers. The messages communicated by an iris are considered very important and symbolize eloquence. As with many flowers, the color of the iris will vary the message that it portrays. Purple irises symbolize wisdom and compliments, blue irises stand for faith and hope, yellow irises are symbolic of passion and white irises convey purity.
Fun Facts
The Fleur de Lis is believed to be a graphic representation of the iris.
The iris is the symbol of Florence, Italy.
The iris has been used to represent power and royalty for hundreds of years.
Irises are very hardy perennials, which make them great additions to flower gardens. Some only bloom in the summer, while others will rebloom in the fall.
Availability 
Irises bloom naturally in the summer and some species rebloom in the fall. They can be found year-round at your local florist but will be at their best during natural blooming times.
Find your local florist on Flower Shop Network!