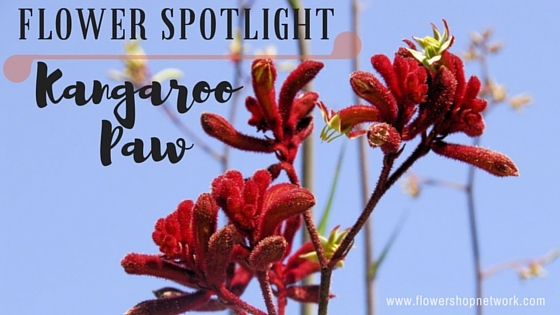 The Kangaroo Paw may not be exactly what you'd expect to find in your flower arrangement, but this unique bloom can add a truly spectacular look to your bouquets.  Find out more about this unusual flower and where it gets its name.
Origin & Symbolism
As you can imagine with a name like Kangaroo Paw, this flower originates from western Australia.  Its genus name is Anigozanthos and is derived from the Greek words 'anises' meaning unequal, or oblique and 'anthos' meaning flower.  The symbolism behind its name literally means unequal, which is how this flower appears.  The flower is comprised of six uneven parts which gives it the characteristics of an outstretched Kangaroo paw.  This is how it received the nickname Kangaroo Paw, and is also sometimes called Catspaw or Money Paw, depending on the shape of the flower.  
Things to Know
While the Kangaroo Paw is not the easiest of flowers to grow, it is well worth the effort.  This exotic plant loves dry, warm air with well irrigated soil making it a perfect addition to your summer garden. It is moderately resistant to most pests but is susceptible to a fungus that causes Ink Disease.  Also, the fine hairs that make up the flowers, and give them their color, can be irritating to the skin.
Kangaroo Paw comes in a variety of spectacular colors including red, orange, green, black and yellow.  With this amazing array of colors, birds are extremely attracted to the Kangaroo Paw.  The stalk is also sturdy enough to act as a perch for birds and this is how the plants get pollinated.  When a bird lands, the pollen from the Kangaroo Paw sticks to the bird's head while it is feeding and is later transferred to another flower.  The pollen for different species will stick to different locations on the bird's head, which prevents cross pollination.
Availability
Kangaroo Paw is available year round, but is most common in the late summer and early fall when the temperatures are still fairly high.  Red, orange, and green are the most recurrent colors with there also being a bi-colored red and green Kangaroo Paw available.  Black, yellow and pink varieties can also be found.    
Ask your local florist about adding Kangaroo Paw to your next arrangement!