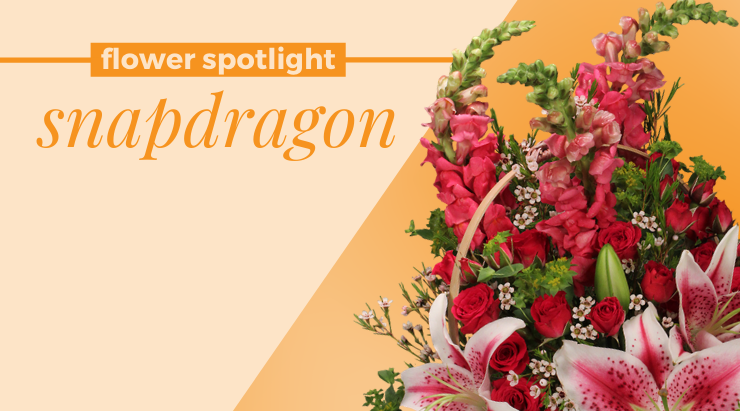 Snapdragons have been around since the Roman Empire. They're one of the most common flowers and come in a variety of colors. Keep reading to learn more about their origin, meaning, and some interesting facts:
Origin
Snapdragons originated in the Mediterranean region and Southern Europe. They have spread throughout the world and were brought to America by the colonists. Snapdragon's botanical name is actually Antirrhinum majus, which comes from the Greek word anti which means 'like' and rrhinum which means 'snout'. This is due to the snapdragons looking like the jaws or snout of a dragon. They are easy to grow and were actually named the Flower of the Year in 1994 in the US.
Facts
Romans and Greeks thought that snapdragons had the power to protect them from witchcraft.
Women used to boil snapdragons and apply the infusion to their skin—it was believed to help keep their beauty and restore their youth.
Snapdragons are edible. They have a slightly bitter taste, which is why they are most commonly used as garnishes.
Meanings
Like most flowers, each snapdragon color represents a different meaning, but overall, snapdragons symbolize grace and strength. Red symbolizes passion, love, and the giving of positive energy, while yellow represents smiles, happiness, and overall good luck. White snapdragons symbolize purity, grace, innocence, and good magic, while purple represents spirituality. You can say a lot with snapdragons!
Beautiful and bright, snapdragons make the perfect accent or standalone flower in any arrangement. Be sure to ask your local florist to use snapdragons the next time you send flowers!