Tulips have been around for centuries and have been popular throughout history. With their many varieties of colors, they are beautiful additions to any flower arrangement. Keep reading to learn more about their origin, meaning, and some interesting facts:
Origin
Tulips were originally a wildflower located in Central Asia. They were first cultivated as early as 1000AD by the Turks when the Sultan demanded particular blooms be cultivated for his pleasure. Tulips, derived from the Turkish word for turban, were introduced into Europe in the 16th century by Carolus Clusius.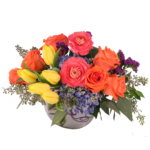 His friend from Turkey, Ogier Ghiselain de Busbecq, sent him tulip bulbs for his medicinal garden. These tulips were the start of the bulb fields seen in the Netherlands today. Tulips remained popular all the way through the 18th century when 'The Age of the Tulip' or 'Tulip Mania' began. Now, there are over 150 species of tulips, with over 3,000 different varieties available. 
Facts
Tulips are part of the lily family and will turn towards the sun when housed in a vase. 

Their flower buds are known for being almost symmetrical. 

Tulips are actually edible and can be used to replace onions in many recipes. 
Meanings

Tulips have many meanings, but the most common meanings are perfection and deep love. They are also seen as the bringers of spring and can mean 'rebirth'. While they have an overall meaning, each color can symbolize something different. White tulips symbolize forgiveness, while yellow tulips represent cheerful thoughts. You can say a lot with tulips! 
Beautiful and bold, tulips make the perfect accent or standalone flower in any arrangement. Be sure to ask your local florist to use tulips the next time you send flowers!