There seems to be a strange, unnecessary stigma floating around flowers for men. Why do you think that is? Do men not like flowers — of course they do! (No one grows more roses than my dad!) Maybe we think they'd be embarrassed receiving something so beautiful?  The trick is to find the RIGHT design to match your Pops!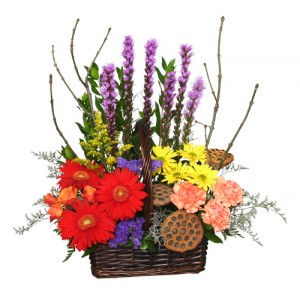 This is the perfect choice for a nature-loving Dad. It uses sticks, twigs and moss to create a rustic feel any outdoorsman would appreciate. If you really want to man-it-up, as special instructions, ask your florist to use more or only green, brown and his favorite colored flowers.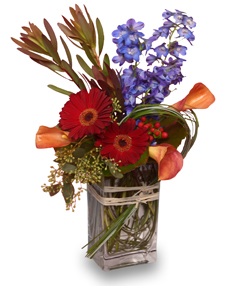 There is something about this arrangement that reminds me of fishing. Perhaps it's the unique leucadendron that looks like a plant you'd see swishing back and forth at the bottom of a lake. Imagine a few fishing lures dangling from the raffia, and you've got yourself a fisherman's dream, if fishermen dreamed in flowers. (Who's to say they dont?!)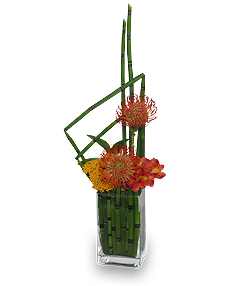 This geometric wonder would be ideal for the stylish dad. Just think, if you're dad is an architect, graphic designer or just likes style, this would be a perfect choice. I could see this design sitting on the desk of a doctor, lawyer or any sleek and sophisticated business owner.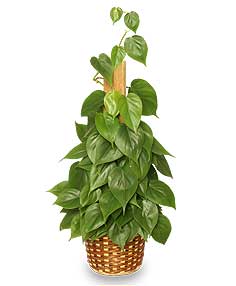 If your dad has a green thumb, or just needs a new companion around the house, a houseplant makes a great choice! Houseplants come in all shapes, sizes and styles, so finding one to meet the needs of your dad is easy! Choose one that needs very little attention, or one that takes ample care and love, it all depends on your dad's needs.
They say, the way to a mans heart is through his stomach, and you KNOW that's the truth. What dad doesn't LOVE to eat??? Your local florist will have many different gift basket options available. Shown above is a salty snacks gift basket, which is great for dads who love their snack foods. You could choose a gourmet foods gift basket for a dad who loves the finer things in life, or a fresh fruit gift basket for your health-nut Pop!
No matter what you choose to give dad for Father's Day, pick something that really matches their character and personality. Your local florist is a great source for inspiration. They will even more ideas for Dad than we mentioned here! (You might also like: Father's Day card messages)
Remember, Flower Shop Network supports local florists! By clicking through the ideas for dad above, you can connect directly with a florist near you! With just a few clicks, you can have your Dad's gift purchased and ready to pick up.
If dad lives out of town, select a florist near him and have it delivered, it's convenient for you, but means the world to dad.