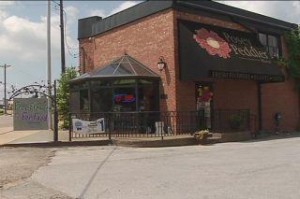 "Two Sundays ago, in our church bulletin was an announcement saying the Jonesboro Women's Shelter was in dire need for food. That they were full to capacity with women and children and they needed help." That is when Bridgette Arnold of Posey Peddler in Jonesboro, AR decided to take action.
Bridgette and her staff started a Flowers For Food program in their shop. For a bag of (10) groceries, customers received a bouquet of roses. "Food isn't something they should have to think about, in this great country we have. And flowers are such a beautiful thing, and sometimes that can motivate someone to do something they normally wouldn't have," says Bridgette.
"There's just no reason for us to have hungry children here in Jonesboro, Arkansas. We are too blessed and too profitable." She says she started the food drive because it's the right thing to do.
The Jonesboro Women's Shelter is open 24hrs a day, 7 days a week. It receives anywhere from 250-300 crisis calls a month from women who need anything from counseling and support, to a quick escape from a dangerous situation. They provide all services free of charge.
"It's very critical we stay available. In a domestic violence situation, most incidents happen at night or on the weekends," says Vicki Crego, Executive Director of the Women's Crisis Center. "It's this accessibility that makes it so costly to continue consistent operation and free services, but the need is evident in our community and needs to be met."

Bridgette and her team at Posey Peddler collected over 5,000 lbs. (5 car loads) of food over 10 days, and over 1000 roses (250 donated from their wholesaler)!