We all love flowers and want to have them in our homes. But there are some flowers that are toxic to dogs and cats. Keep your furry friends safe and add positivity to your life with these flowers! Here are five flowers that are safe to have around dogs and cats:
Sunflowers
Hello, sunshine! These beautiful flowers are sure to brighten up any room and bring the fall spirit to anyone who sees them. They're also safe for pets, making them one of the best flowers to have in your home!
Zinnias
Add a pop of color to your home with Zinnias! These gorgeous flowers come in an array of colors, from bright pink to autumn orange, making them versatile and easy to add to any flower arrangement during any season. And they're safe for your furry friends!
Asters
These daisy-like flowers bloom in late summer and early fall, making them the ideal flower to incorporate into any fall arrangement! Available in white, blue, and purple, these stunning blooms will add a subtle pop of color to any arrangement! And since they're safe for pets, they're a safe and beautiful addition to your home.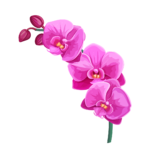 Orchids
The Phalaenopsis Orchids, also known as Moth Orchids, are completely safe for cats and dogs. They come in a variety of colors, including pink, white, red, green, blue, and orange. These elegant and beautiful plants can be a wonderful decoration to add to any space!
Roses
As one of the most popular flower choices, roses can create a gorgeous stand-alone bouquet or add a stunning element to any arrangement. Being safe for your pawed best friend, roses are a fantastic flower to have in your home!
Face it—there's nothing better than flowers and pets! Keep your furry pal safe by getting some of the flowers above. You'll love having beautiful flowers and peace of mind!

Disclaimer: It's always good practice to keep flowers and plants out of reach from pets. This information doesn't take the place of professional veterinarian advice. Some animals have varying tolerances to all substances, including flowers and plants.