I believe that every room deserve a fresh flower arrangement and that every one should receive or send fresh flowers at least once a year (although the more times the better). But, yesterday I was pleasantly surprised to find a flower arrangement in a place that you don't often see them — a public bathroom.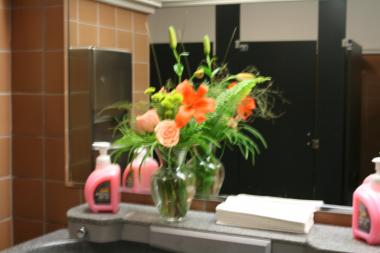 I popped into the bathroom at Garvan Woodland Gardens in Hot Springs AR and found this beautiful flower arrangement. In fact this was one of two fresh arrangements in the bathroom (the extremely clean bathroom). I'm not sure if they used one of the Hot Springs florists to create these flower arrangements or if they created them from their wonderful garden flowers.
Garvan Woodland Gardens is gorgeous 210 acre woodland botanical garden showcasing the beauty of nature in its flowers, trees, shrubs and structures. So it really wasn't surprising that they would value the importance of flowers even in their bathroom. They also had fresh flower arrangements on their information desks.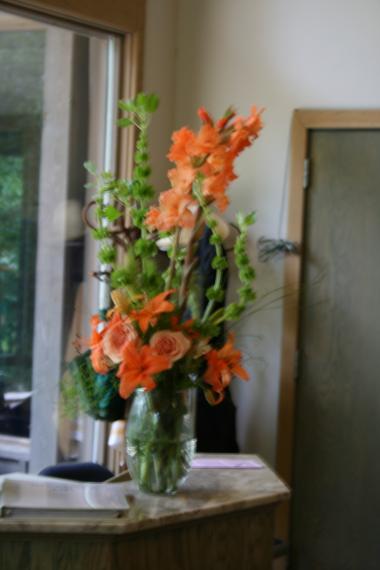 They had me with the beautiful fresh flower arrangements and I could have gone home happy just seeing them. But my husband persuaded me to continue on with a tour of the gardens. The beauty of flowers definitely continued through out the garden. I've been to many botanical gardens all over the world and this one ranks at the top of my list. As you can see from the picture below the reason for my excitement and the amazing presentation of their flowers.
So from one flower lover to another, I would highly recommend visiting Garvan Woodland Gardens. The wonders you will find will amaze you. In fact, I can see this as a wonderful place for florists to draw inspiration.