Well, it's Friday! The weekend we've all been waiting for is finally here! Memorial Day Weekend is the time of year you will find most Americans enjoying the outdoors with family and friends. Through the pictures posted this week, florists across the nation are finishing up prom season with weddings on the horizon. Let's take a look!
Mascot of Devine Designs, Fulton NY
"Khi (our shop mascot) is helping to get the Veteran's Day order completed!!!! Happy Memorial Day!!!!! Khi says "Have you kissed a Vet today?""
—
Cowboy wedding flowers by Cottage Flowers & Gifts, Pasadena TX
"Arrangement at sign-in table at a wedding… The Cottage Way…"
—
Purple wedding bouquet by Monday Morning Flowers & Balloon Co., Princeton NJ
"Just wanted to share one of this weekends brides maids bouquets. Purple is still so "In" right now. :o)"
—
Prom corsage for shoes by Floral Expressions, Owings MD
"Love it when they post a picture,our favorite of this weeks Prom"
—
Purple orchid corsage by Devine Designs, Fulton NY
"This corsage turned out to be the favorite on Saturday when the corsages were being picked up!"
—
Peacock prom corsage by Hollon Flowers, Fairborn OH
"This was our favorite this week , the girl was wearing a black dress with peacock feathers"
—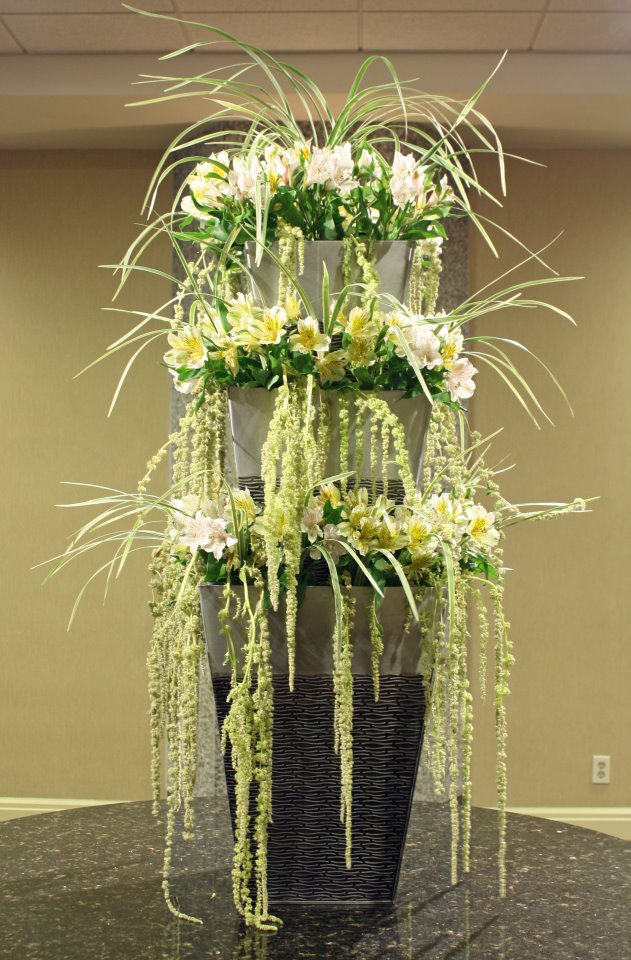 Fountain floral display by Crossroads Florist, Mahwah NJ
""The Fountain" Sitting in the park, I gazed at the fountain. I was inspired by watching the water cascade from on level to the next and splash in the sunlight… This is my interpretation."
—
Flower arrangement by The Flower Patch… & More, Bolivar MO
"Who doesn't love to play with kiwi vine?"
—
Funeral arrangements by Nature's Corner Florist, Anderson SC
—
Fisherman flowers by Marys Flowers, Saint Peter MN
"Grandkids bobbers."
—
What will next week bring? Who knows! Be sure to like us on Facebook for even more beautiful floral designs. If you're a florist, we want to feature YOUR favorite design of the week right here on Facebook Friday Recap!